Boehringer Ingelheim IPVS symposium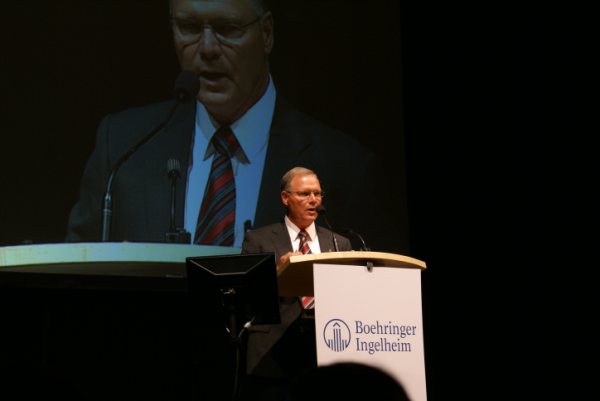 At the IPVS, animal health company Boehringer Ingelheim organized its symposium: 'Translating science into performance'. The well attended satellite symposium discussed the principles of vaccination, the use of mixed vaccines among others.
Prof. James A. Roth from Iowa State University, USA discussed the principles of immunology and vaccination. He explained the principles of virus like particles, as they can be highly effective as vaccines for certain viruses. He further addresses that one dose kill vaccines are effective provided they have sufficient antigen mass. Combination vaccines are getting more common nowadays, said Roth. "However, these mixed vaccines must be tested for efficacy and safety because you cannot just mix two random vaccines together" said Roth.
Dr. Miljenko Antonio Atlagich Izquierdo, Technical Field Veterinarian of AGROSUPER, a very large integrator in Chile explained their experiences with using Circoflex on their farms. He explained that despite the fact that there was not a real PCV2 problem – just some individual cases -© the vaccination programme they use now significantly increased the feed intake and reduced the mortality.
Dr. Tom Gillespie, owner and founder of Rensselaer Swine Services, USA explained some vaccine facts. He explained that the biggest misconceptions regarding vaccines are: 1) vaccines can prevent infections – they usually do not! They provide immunity against a subsequent infection, which results in reduction of clinical signs. 2) Vaccines can correct management mistakes – they do not! They are part of control strategy in combination with husbandry techniques, biosecurity and needle management. 3) Vaccine response/efficacy can be measured by seroconversion. Seroconversion is not an appropriate measure as many vaccines provide cell mediated immunity, which is not reflected by seroconversion.
Other speakers of the Boehringer Ingelheim sympsosium included Bjarne Vest and Michael B. Hoof.
Related website:
Boehringer Ingelheim
©