Boar vaccination ok 2 weeks before slaughter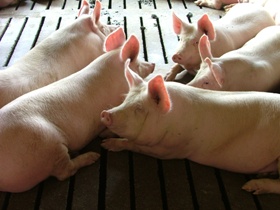 Australian research, sponsored by Pork CRC, indicates that vaccinating entire boars as late as two weeks before slaughter is still sufficient to control boar taint, while also not blowing out fat levels.
Until now, it was advised by its manufacturer Pfizer Animal Health, to administer this second shot of two four to six weeks prior to slaughter. The product is marketed as Improvac and has also been introduced at various other markets in the world, including the EU as of last summer.
Late injection
Amy Lealiifano, fourth year animal science honours student at Western Australia's Murdoch University, tested the two-shot vaccine on relatively late injection with regard to the second vaccination.
The first shot is usually given to piglets at eight weeks of age. The second, later vaccination, triggers a male pig's immune system to produce antibodies against 'gonadotrophin releasing factor' (GnRF), which usually stimulates the development and function of the testes. This way, the hormones androsthenone and skatole, two main contributors to boar taint, hardly develop.
Cost effectiveness
Some producers had questioned the cost effectiveness of the practice as vaccinated boars have been seen to more and gain more weight following the second vaccination, compared to entire males and consequently there may also be an increase in depth of backfat.
Lealiifano's experiment, supervised by Dr Bruce Mullan, Department of Agriculture and Food WA, Professor John Pluske, Murdoch University and Professor Frank Dunshea, University of Melbourne, measured the response of entire males and the incidence of boar taint when the second vaccination dose was given at different times pre-slaughter, i.e. zero, two, three, four or six weeks.
Androstenone and skatole
"Our results suggest androstenone and skatole can be eliminated," said Lealiifano, when the second vaccination dose 'is given two weeks pre-slaughter'.
"While it's still recommended that the second vaccination is given four weeks pre-slaughter, our results mean that if producers find a proportion of pigs have reached the target slaughter weight only two or three weeks after vaccination, then they can be safely sold as free of boar taint."
"This, of course, relies on pigs correctly receiving the first and second vaccinations and as it's expensive to measure boar taint some measure of testes size is recommended since there is a strong correlation between weight, volume and dimensions of testes and time between the second vaccination and slaughter."
P2 backfat
She added the experiment also showed that as the time between second vaccination and slaughter increased, so too did the increase in backfat at the P2 site.
"This increase in P2 means some producers and processors might question the use of Improvac, regardless of how well it can control boar taint."
Lealiifano stressed that producers contemplating the use of the vaccine should first discuss the strategy with their veterinarians and ensure that no pigs are sent to slaughter less than two weeks post-vaccination.
Related websites:
• Pork CRC
• Pfizer Animal Health
• University of Melbourne
• Murdoch University
• Department of Agriculture and Food WA