Blue-ear pig disease still in 14 Chinese counties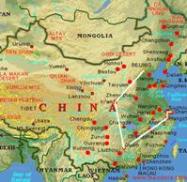 According to China's chief veterinary officer, Jia Youling, blue-ear pig disease, which is partly responsible for the current pork shortage, is still present in 14 Chinese counties.
Youling said at a press conference that the Ministry of Agriculture was increasing measures to bring the epidemic under control.
He has said that since the start of 2007, the disease had plagued 286 Chinese counties and infected 280,000 pigs, of which more than 70,000 died. The ministry administered 510 million millilitres of vaccines to immunise over 200 million pigs.
Supply and prices
Known as Porcine Reproductive and Respiratory Syndrome, it has cut the provision of live pigs and caused pork price hikes. Pork price hikes and hikes of other food products pushed the country's consumer price index to 6.5% during August, after it hit a ten-year high of 5.6% in July.
Yin Chengjie, Vice Agriculture Minister said the pork price is unlikely to increase drastically in the long run as the nation came with a series of measures to encourage farmers to raise pigs. The vice minister added that farmers could presently make 300 to 400 yuan (€28.8 – 38.4) from raising a pig, which would help rekindle the enthusiasm of farmers who suffered losses from raising pigs in 2006.
According to latest figures from the Ministry of Commerce, pork prices in China fell for four consecutive weeks until 2 September – amid government efforts to increase supply.
Related links: