BLOG: Pigs at the spa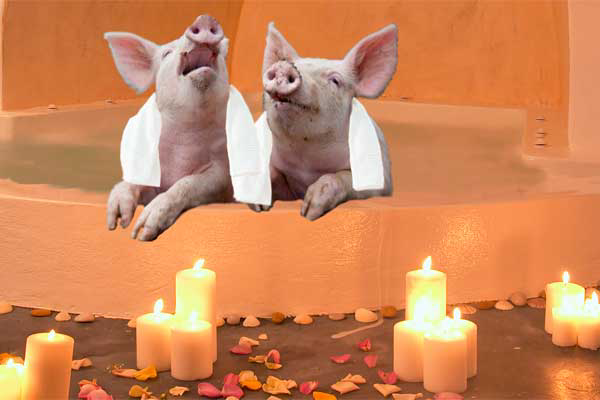 Pigs can do unexpected things – I get that, but showing up prominently at a spa is something I had never thought of.
Yet they did, only days prior to VIV Asia 2013 in Thailand – in one of those rare juxtapositions you can only find in Asia.

The spa is located in the Saraburi province countryside, not far from the town of Phraphutthabat. In fact, it is part of a wat, a temple complex. Local monks attempting to do what is right and beneficial for the local population, set up this little sauna just outside their temple, which also features large buddha statues. The little spa is part of a treatment to help drug addicts cure their vices – and local citizens are invited to come in and enjoy the steam bath as well – for free!

When entering the spa complex the first thing to hit me was a familiar smell but who thinks of pigs when visiting a temple for its spa – already a unique combination in itself?

Yet when taking a stroll, a large compound full of wild boar could be seen, equipped with straw, a shelter and a large mud bath that would make every organic producer go wild.

Do the monks also produce pork, I wondered?

I was told that the animals were there as a result of ongoing mining works in the area. The countryside in Saraburi province is very flat, with scattered rock formations, forming excellent construction materials. Large mining complexes can therefore be seen everywhere, unfortunately taking away a lot of the wild boars' original habitat.

Thai buddhist monks are known to be animal lovers. They usually provide a shelter for stray dogs as well – so why not pigs if they need a home?