Big, bigger, biggest in Pig Progress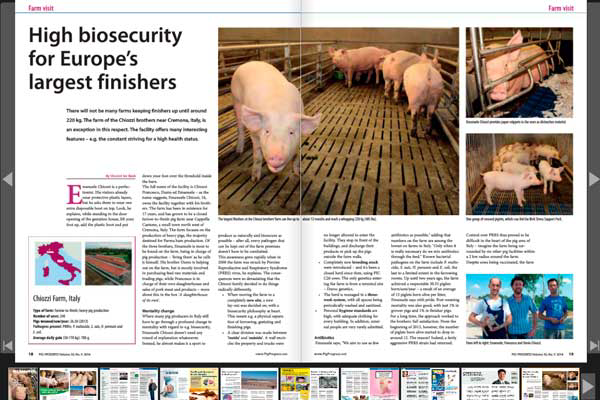 Finishers of about 220 kg feature in this issue of Pig Progress. We travelled to Italy to see some large modern pig production.
Some finishers at Chiozzi farm, near Cremona, will reach the age of about one year at which time they will be slaughtered in farm's own slaughterhouse. The remainder are sold at about nine months for the parma ham industry.
Other than that, the farm is noteworthy for a strong emphasis on healthy growth without antibiotics; you can read all about it on pages 18 and further.
Matters of health are also prominent in Boehringer Ingelheim's new Veterinary Research Centre in Hanover, Germany – where a completely different approach can be noted. No pathogen is allowed to come in – or get out. How this is achieved is explained in the feature on page 30.
And are you interested in Latin America's pork production? Read more about total production figures as well as the important role Chile plays in all this; you can find this from pages 6-8.
For this and much more see our digital magazine