Betagro to target pork markets in North Eastern Thailand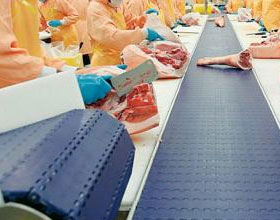 Thailand's second-largest agribusiness company Betagro officially opened a new pork-processing facility in Khon Kaen last week – and this is only the beginning of a larger plan to target North Eastern Thailand.
Investment costs totalled 140 million baht (€3.4 million) and the facility has a capacity of 480 pigs per day.
The Khon Kaen plant was the fourth such facility after the plants in Lop Buri, Chiang Mai and Phatthalung. Although the plant has the capacity to process 480 pigs per day, it is initially handling 300 animals per day.
Most of the meat from the newly-opened plant is supplied to food processors, who turn it into white pork sausages and Chinese snacks, such as dried and crispy pork and dried shredded pork.
New regional offices
The group also plans to open three new regional offices in the North Eastern provinces of Bung Kan, Nakhon Ratchasima and Si Sa Ket, as well as unveiling six new Betagro shops in the region this year. This will give it 30 stores around the country.
Betagro has also set itself a goal of becoming Thailand's leading pork exporter through its five-year business plan to achieve an integrated breeding cycle, including 140,000 great-grandparent pigs. This high-quality stock will enable the group to breed high-quality swine through grandparent and parent stock, he said.
The group also sees an opportunity to set up chicken-processing plants as well as a fishery business in Thailand's North East.
Senior vice president Narongchai Srisantisaeng said the group is also looking for a suitable location in Yasothon, Amnat Charoen, Surin, Ubon Ratchathani or Si Sa Ket to set up another pork processing plant.
GGP pig supplies
The decision is mainly dependent on the GGP pig supply and labour factor in the region. The group expects that overall pig-processing capacity in Khon Kaen alone will reach 5,000-6,000 animals per day within the next six months.
Betagro's business in North Eastern Thailand has grown rapidly from sales of 450 million baht (€11 million baht) ten years ago to 5.5 billion baht (€134 million) last year, which reflected the expanding economy and purchasing power of consumers.
Expansion
The company's chief operating officer Vasit Taepaisitphongse said that said this year's expansion would increase the group's share of the country's pork business from the current 52% to 68%.