Betagro eyes stronger position in South East Asia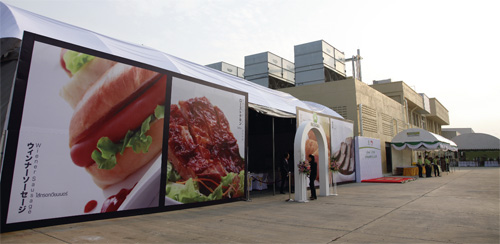 Betagro, Thailand's second-largest agribusiness company, continues to grow. Following a path of high-quality joint-ventures, the Betagro Group opened a new €650 million pork processing plant in Lop Buri province. But that is not all – organic growth is now also carefully planned outside Thailand.
With a staggering 19.1% growth per year, Betagro continues to be one of the more promising companies in South East Asia. For 2011, 60 billion baht in sales were targeted (€1.47 billion).
Thailand alone has long been too small for the Betagro Group. In the swine business, the company has favoured careful international partnerships as the way to grow internationally. In 2009, Pig Progress reported on a SPF joint-venture with Sumitomo, whilst earlier deals had been made, involving Japanese companies like Ajinomoto, Dainippon and Itoham. The latest addition in this respect is a new 650 million baht (€16 million) factory, opened in Amphoe Phatthana Nikhom, Lop Buri province, in the heart of Thailand.The joint-venture responsible for this is called Betagro MF Deli, a cooperation between the Betagro Group and the Japanese meat company Marudai Food.
Betagro holds an 80% share. Key target is the export market of Japan, which has a growing demand for premium food products. The plant will manufacture and export sausages and frozen cooked foods. The plant is certified for food safety across the entire production process with the use of a 'clean room' packing environment.
Vasit Taepaisitphongse, chief operating officer, Betagro Group, said, "Its main product is pork sausages on sticks made from hygienic pork and chicken from the group's factories to the highest quality and food safety standards. The facility is now fully operational with a capacity of 800 tonnes per month. Of this, the monthly production of sausages accounts for 600 metric tonnes, while frozen cooked foods represent 200 metric tonnes. We project sales of two billion baht (€49 million) per year from exports mainly to Japan." He summed up the new factory's technology and equipment. "These include for example, separate manufacturing zones to ensure optimised one-way flow of processing. And by applying a clean room environment in manufacturing and product packing, the facility has a minimum level of contamination as internal air quality can be controlled by a HEPA Filter to prevent dust, airborne microbes, aerosol particles and other environmental pollutants."
More investments
Not only have the Japanese export markets recently received Betagro's attention, as closer to its Thai home the company can be seen investing considerable amounts of bahts for organic growth in Thailand as well as across the borders in neighbouring South East Asia.
In Khon Kaen, in Thailand's North East, a new slaughter plant was opened in April this year. Investment totalled 140 million baht (€3.4 million) and the facility has a capacity of 480 pigs per day. Another plant is planned in a lower North East province.
In addition, the company takes a growing interest in its surrounding countries like Cambodia, Myanmar and Laos, anticipating an economic boom expected after the establishment of the Asean Economic Community in 2015. Investments in the feed and livestock business include a 500-million-baht (€12.2 million) animal feed plant near Phnom Penh, Cambodia, targeted to produce 12,000 tonnes of animal feed a year.
In Laos, Betagro is about to build a breeding farm with a capacity to raise 1,000-1,200 breeding animals. Business opportunities in Myanmar may well be explored as well – to this end the setting up of a representative branch in Yangon is considered. PP