Belgian bill: No piglet castration without anaesthetics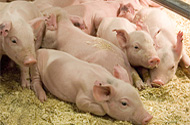 Laurette Onkelinx, the Belgian minister for Public Health, has drawn up a bill through which physical castration of piglets is only allowed after anaesthetics, the Flemish Information Centre for Agri- and Horticulture (VILT) reports.
In doing this, the minister follows an advice of the national Council of Animal Welfare, stating there are plenty of alternatives for castration without anaesthetics.
Vaccination
Castration can e.g. be prevented by vaccinating male piglets and thus reduce the development of testicles (Improvac, marketed by Pfizer Animal Health). The vaccine has been authorised for marketing in the EU since last year.
Surgical castration will only be allowed after the application of anaesthetics and using painkillers. The bill will now be sent for approval to the various regional parliaments in Belgium.
Piglet castration has provoked discussions for many years in both Belgium and the European Union. In Belgium, piglets can be castrated without the use of anaesthesia until the age of seven days – this is happening to 5.5 million piglets per year in Belgium.
Discussions in Europe
Belgium is not the only country in which a nationwide approach is taken to revise castration procedures. Over the last couple of years, both the Netherlands and Switzerland moved to production in which anaesthetics is mandatory. In both countries, the whole food chain was involved in making these plans.
In Norway, Denmark and Germany, discussions are still going about finding alternatives. Great Britain, Ireland, and large parts of Spain and Portugal do not castrate as a practice.
Related websites:
• Flemish Information Centre for Agri- and Horticulture (VILT; in Flemish)
• Pfizer Animal Health