Being big paves the way for the future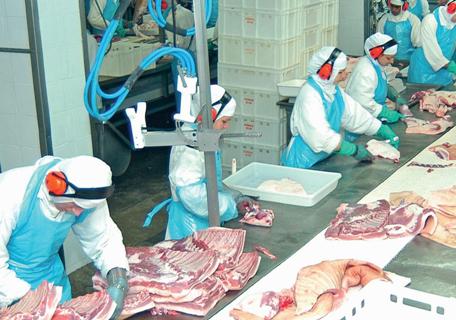 The last year has seen a number of large mergers and takeovers in the Brazilian food industry. The new company Brasil Foods is the result of the merger of Perdigão and Sadia. Being big is the way ahead, José do Prado Fay, CEO, Brasil Foods, told Pig Progress.
By Ad Bal and Vincent ter Beek
The merger between Perdigão and Sadia was announced early 2009 after several attempts and months of discussions. Definite approval for the merger, however, is not expected until the first half year of 2010 as at this moment, antitrust authorities need to review the plans.
The main obstacle in this process is new Brasil Foods' dominance in certain domestic markets, mainly regarding frozen foods. The market situation is currently under review in order to define the real size of each market and the share of Brasil Foods. Until the final approval comes, both original companies keep on being run separately, although the shareholders' base of Brasil Foods constitutes members from both previous companies.
The name Brasil Foods is intended to be only the name of the holding; brand names like Perdigão, Sadia and Batavo (for dairy products) are said to continue 'forever'. The new company will be active in over 100 countries worldwide.
What was the main reason for the food companies Perdigão and Sadia to merge?
José do Prado Fay: "We face a very, very competitive market. And we believe that, although we operate in the same business, we have a lot of complementarity. The main reason for this merger is to be stronger in external markets and to accelerate our internationalisation process."
So the current size of the companies was not enough to expand in this way?
JPF: "The companies separately were two big companies and were two important players, predominantly for poultry, in the global market. But together we can expand better. And we can do this quicker than we could do if we keep on going separately."
Workers at a swine processing line in one of the Brasil Foods' factories in Herval D'Oeste, a city in Santa Catarina state in southern Brazil
Has the financial crisis had any influence on the ongoing merger process?
JPF: "The crisis really brings opportunities depending on your financial position. I think that it can bring opportunities to grow further or to become weaker, according to your strategy. I expect that in 2009 and 2010, merger processes, not only in the food industry, but also for the total chain, will continue to happen."
Will you focus on poultry again?
JPF: "Yes, we are in the food business and we consider ourselves to be a branded company, mainly on the food market. Poultry is our main speciality – it's the origin of our company, but it's not the only protein product that we used to produce. We also produce milk, we produce margarine. To keep on growing in food, poultry is very important for us. In total, poultry and poultry derivatives constitute at least half of our business, but the focus is on FPP (further processed products) and branded products."
What about pork and pork derivatives?
JPF: "Perdigão's external markets still have a lot of barriers for pigs. We cannot export to Japan, China and the US at the moment, but in the future we expect to be in these markets. We believe we can be very competitive in pork – as competitive as we are in poultry. At the moment I think roughly 35% of our turnover is in pork."
What product group constitutes the remaining 15%?
JPF: "There are a lot of products for the internal market, such as pizzas, lasagnas, margarines and dairy products."
Perdigão has seen double digit growth. Do you expect the same for Brasil Foods?
JPF: "Of course, we want to continue to speed up our growth. But first, we will have a period when we will be involved in this merger and the integration of these two big companies. We will have a time in which we will be working a lot on this integration process."
Where will that growth come from? Is that organic growth or do you expect more acquisitions?
JPF: "Yes, we should keep on having acquisitions. Since we should keep on growing fast we have to consider acquisitions as something important. These will be in new categories in the internal market mostly, in other kinds of branded food and branded products. It will depend on the opportunities. When an opportunity fits with our branding strategy, we will analyse it."
Do you have any specific regions in the world where you intend to grow?
JPF: "Asia is an important area and the Americas are too, from Northern America to the South of Chile. We also intend to extend our business in Europe, where we already have two processing plants."
Does Brasil Foods have any pig or poultry farms of its own or do you have contract growers?
JPF: "We run our business under integrated farmer contracts. We do not have any farm ourselves, except for R&D and multiplication purposes."
How do you keep track of the quality?
JPF: "This is very important for us. We can control everything, e.g. in poultry from the egg to the grill, depending on the bird that we are growing. This is because we supply all the materials to the farmers. The feed, the medicine, everything they need comes from us."
Where does Brasil Foods get its feed from?
JPF: "We have a lot of feed mills. We deliver the meals to the farmers already formulated and so on, we buy soybean meal and we buy corn and we buy all the macro and micro ingredients for the feed. So we supply total ready feed."
What does the breeding structure at Brasil Foods look like?
JPF: "We import grandparent stock and the genetic line; for poultry these are from Cobb and Ross lines. For pigs, the used genetic lines are PIC, from the USA and England, Topigs from the Netherlands and DanBred from Denmark. The majority of multiplication of the genetic material is done by BRF itself. Some of the breeders are also on contract."
What do you think is the advantage of becoming the largest food integrator in the world?
JPF: "Throughout the value chain one can see some concentration, from our suppliers to our clients. So, to be profitable in this environment, it's important to be big, to be strong and it's important to have the capacity of distribution all around the world, in order to protect the profitability."
Do you think that, in the future, integrations will dominate the international meat market?
JPF: "Yes, there are some Brazilian companies, most of them based on beef, that are integrating a lot, like JBS and Pilgrim's Pride. I think that in the future, in the protein business there will be strong global companies from Brazil as the country has strong competitive advantages."
What are those advantages?
JPF: "Brazil has unique conditions for expansion since we have a good climate, a sunny land and a lot of fresh water available, which is very important for food production and processing. In addition, we have good feed exporting conditions, as we have raw materials, like corn and soybeans. And this can be done without touching the Amazon rainforest area – as we are based in the southern end of Brazil." 
Biography
José Antonio do Prado Fay graduated in mechanical engineering at the Federal University of Rio de Janeiro and gained a postgraduate degree in equipment engineering from the COPPE/Petrobrás, one of the most prestigious centres of learning and research in engineering in Latin America. In his professional career he has worked as a top manager for companies in a variety of industry sectors. These include Petrobras (oil and derivatives), Bunge (food), Electrolux (household appliances) and Batávia SA (food). He joined Perdigão in 2007. As CEO of BRF – Brasil Foods SA (current name of Perdigão), he heads one of the leading companies in the food sector in Brazil.
Source: Pig Progress Volume 25 nr 9