Australia: Supermarket giant faces angry pork producers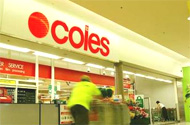 Coles, supermarket giant in Australia, is still facing angry pork producers who are fired up about the supermarket's decision to stop buying pork from farms using sow stalls by 2014.
©
Double standards/ discriminating against producers
In a report by ABC©News©pork farmers are claiming that supermarket giant Coles is operating on a 'double standard' basis by not asking the same of its international suppliers that provide the supermarket chain with processed pork.
©
Andrew Spencer, Australian Pork Limited (APL) CEO has stated that the supermarket's decision is discriminating towards Australian producers.
©
"Australia's importing 70% of its ham and bacon from Denmark and North America. It's very hard to compete with those countries because of their subsidies," said Spencer.
©
According to Coles, consumers approve of the decision not to buy fresh pork from the farms.
©
Double-digits sales growth
A company spokesman said that the decision as a consequence, has brought about double-digit sales growth in the company's pork products section.
©
"People support the move and they see it very positively, so I think there's hard proof coming through that it's something that is worth the industry considering," said spokesman Jim Cooper.
©
Cooper further added "I think what the Australian pork industry are trying to do is change a story about a proactive move that customers support around sow stalls to another debate that frankly we don't think is relevant. We've done everything we can to make sure our move here isn't disadvantaging local pork growers."
©
However, Spencer from APL opposed this by stating: "Ham and bacon comes from pigs as well as fresh pork. We're saying don't be hypocrites, be honest with your consumers. Apply the same standards to all of the pigs that supply Coles pork products," he said.
©
The RSPCA welcomes Coles' decision. "The RSPCA is really excited that Coles has shown real leadership on pig welfare…" said RSPCA executive Heather Neil.
©
Sow stalls are metal cages that are used to keep animals in during their 16-week pregnancy.
©
©
©
©
©
©