Australia: Sow stalls a thing of the past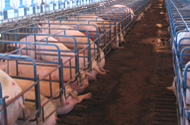 Sow stalls are in the spotlight again, and it may become a thing of the past in Australia.
The pork industry in Australia will consider phasing out sow stalls if it is backed by the country's governments and retailers, according to reports.
©
Consultation process
Australian Pork Limited (APL) has announced today that a five month consultation process is to take place, named 'Shaping our Future.' Sow gestation stalls, imports, labelling and labour will be the issues©under review. Andrew Spencer, APL chief executive, has said that the consultation process would give leeway to delve into the views of the industry and other key sector stakeholders.
©
Phasing out sow stalls
"The gestation stalls issue cannot be viewed in isolation. If sow stalls are phased out, it is likely that pork producers will experience a decrease in productivity. There will be increased demand for labour and for skilled staff to meet the specialist needs of other housing systems; consequently labour costs for producers will increase. Should producers ultimately agree to move down the path of a gestation stall-free environment, the industry will need strong support from retailers as well as both state and federal governments," added Spencer.
©
©
APL will see to it that talks about these complex issues will take place with the relevant stakeholders; producers, retailers, regulators, credible welfare organisations and others.
Source: weeklytimesnow.com.au