APK-Invest increases pork production capacities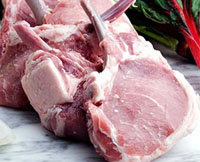 APK-Invest company , one of the largest industrial pork producers in Ukraine has increased production capacity to 200 tonnes of pork and pork products per day – which is 25% compared with the level of the last year.
The total investments in pork production to date amounts to about 300 million UAH (US$ 37.3 mln). According to preliminary estimates by 2015 this figure should increase to 600 million UAH (US$ 74.6 mln).
Today the manufacturing assets of APK-Invest are concentrated in the Donetsk region, situated on the border with the Rostov region of Russia where an outbreak of ASF has recently took place. Nowadays, throughout the pork production enterprises of the company there are additional security measures.
The land of the company totals 20 000 ha, the feed mill processes 200 000 tonnes of feed per year, while the output of pork production is about 200 tonnes of finished products per day.
In the first 6 months of 2011 the volume of pork sales of APK-Invest increased by 49% compared with the first half of 2010. The total revenue from sales to date is about 211.2 mln UAH. (US $ 26.4 mln). By the end of the year pork production will increase by 17% compared with the level of 2010.
According to its own company data APK-Invest has a share of the market of industrial pork production of about 11% in 2011, while in 2010 it was 9%. By the end of 2012 according to experts the company could be among the top three largest pork producers in Ukraine.
(By Vladislav Vorotnikov)