Animal cruelty charges for large pork producer in Australia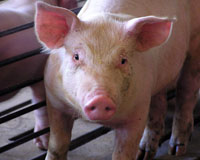 Westpork, an Australian pork producer, faces charges of animal cruelty. The company is one of the biggest pork producers in Australia.
The new charges alleges that some pigs had suffered harm which could have been lessened.
The firm, its general manager Neil Ferguson and another staff member have been handed $50,000 fines and up to five years imprisonment if found guilty of the charges. Ferguson is also a board member Australian Pork Limited (APL) and on the WA Agricultural Produce Commission. But hwile the case continues, Mr Ferguson has been asked (by Greens MP Lynn MacLaren) to give up these roles while the case is pending.
Westpork – previous charges
There had been another case of charges laid against the producer in the past under the Animal Welfare Act 2002, however, these charges were previously withdrawn.
"What makes the situation so shocking is that this is now the second time Mr. Ferguson has been charged," said Verna Simpron, Director of Humane Society International (HSI).
"Such irresponsible behaviour should not be permitted to represent and guide industry best practice… The fact that any person charged with animal cruelty offences can remain in such a prominent position within the industry is inconceivable," said Simpson.
Reports state that the current charges are with regard to a small number of pigs at at the firm's 30,000 sow piggery at Gingin.
The court date is set for 16 March.
Related websites: