Angry French farmers release pigs at processing plant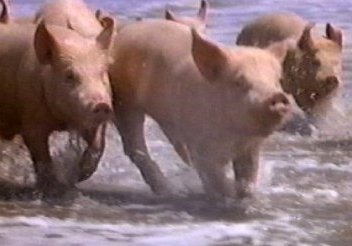 A group of 40 pig farmers in southern Brittany, France on Sunday evening disrupted the activities of a slaughterhouse at Josselin, Morbihan, by releasing 250 pigs to demand better prices for their pigs.
The demonstrators also welded the gate of slaughterhouse company Europig, temporarily blocking the entry or exit of trucks. They painted slogans inside the factory including; "Certificate worst payer", "Pork bought for one euro, sold for seven euros. Who benefits from this crime?"
The farmers accuse cooperative slaughterhouses of an agreement to not raise pig prices. They promised new actions in the coming days. According to the farmers, the market prices of pork in Brittany stagnated at a "not satisfactory" level of €1.10 per kg, which they say is not profitable to grow pigs.
"Production of pigs began to fall in some European countries, whereas consumption increased by 3% in January, not seen since a year," they said in a statement.
©