AMG Series: Universal Adapter with snap off cap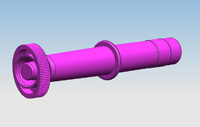 Absolute Swine Insemination Co., LLC (ASIC), recently released its all-in-one (universal) adapter for their AMG Series™ line of catheters.
This adapter allows for the transition of ASIC's larger diameter pipette to work with any traditional semen container found in today's market.
©
The ©snap-off end, similar to those found on semen bottles and some flat packs, ensures cleanliness and bio-security for semen entering the AMG™ pipette ©regardless of what container is used.©
©
The adapter works with all bottles, tubes, ©flat-packs, couchette bags, and other semen containers without the technicians needing to fuss with inserting a cap or worrying that the plug has come out due to the animal's movement.©The new adapter (made from a custom soft gripping material) will soon be shipped with all AMG Series™ pipettes.
©
©