Alltech focuses on natural production from farm to fork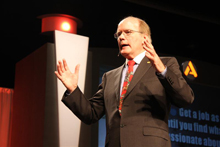 True to tradition, the 28th annual symposium of Alltech is taking place again this week in Lexington, KY, USA. Bigger than ever before, this years event attracts about 3,000 attendees from 72 countries.
"There is still much to win in animal nutrition", said founder and president Dr. Pearse Lyons in his opening address to the audience. "We are all in a dash to achieve something. For that reason, we need passion and fun to meet our goals", Lyons stated.
A good example of somebody who has managed to do so, was former Kentucky governor John Y., Brown, who owned and managed KFC for several years. In this role, Brown opened more than 4,000 franchise units of KFC around the world. For his entrepreneurship, Brown received Alltech's annual medal of Excellence Award.
"It is increasingly important to produce in a natural way, without the use of hormones and antibiotics, Brown stated. Restaurants like KFC are moving in this direction, and suppliers will have to respond to that trend", he concluded.
Among the other speakers during the opening session was also Dr. Karl Dawson, vice-president and chief scientific officer of research of Alltech. Dawson explained the principle of nutrigenomics and genetic nutritional imprinting. This is a very promising new tool to increase efficiency in animal nutrition in an early stage of life. By using this technology, major advantages can be achieved. It is a new way of changing the animals performance, thereby more effectively responding and to some extent stimulate a number of the animals own specific traits.
Finally, Dr. Pearse Lyons announced the introduction of the new "Lyons Farm" brand. This is a new corporate name of products which have been produced according to Alltech nutritional feeding programmes.
"Lyons Farm is exciting because it is an opportunity for us to share our passion for naturally improving health and nutrition for both animals and consumers" Lyons said. "You can literally taste the result of more tender and juicy meat".
Each animal is fed the right nutrients at the right time based on its specific needs. Thus it rich in antioxidants and nutrients while remaining free from additives such as growth-promoting hormones and antibiotics.