Alberta pig farmer culls quarantined animals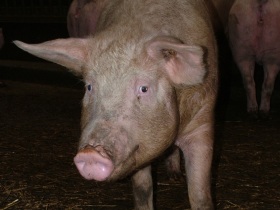 The central Alberta hog producer whose animals were quarantined after it was discovered they were infected by the 2009 Influenza A H1N1 virus has culled his herd.
Arnold Van Ginkel, who farms near Rocky Mountain House, made a business decision to cull the animals based on the fact that the disease remains present in his herd.© The quarantine implemented by the Canadian Food Inspection Agency (CFIA) meant that no animals from the farm could be marketed until testing has indicated the virus is no longer present in the herd and all animals are healthy.©
Difficulty marketing pigs
While officials such as the World Health Organization (WHO) have confirmed that the meat from animals who have recovered from the 2009 Influenza A H1N1 is safe to eat, Van Ginkel was having trouble finding a market for the animals.
The declining presence of the 2009 Influenza A H1N1 meant the CFIA quarantine would remain in place for the foreseeable future. Not being able to market any animals meant that Van Ginkel was faced with having to conduct a second partial cull for animal welfare reasons due to overcrowding. Van Ginkel made the decision to proceed with a full cull of his herd and move forward.
"I am disappointed that I have to cull these animals but the presence of the Type A H1N1 virus in my herd left me with few options," said Van Ginkel. "With the quarantine still in place, I was facing another partial cull due to overcrowding and no prospects for marketing my animals once they were given a clean bill of health. The only real option left was to have a complete cull and end the uncertainty for my farm and for the entire pork industry."
New swine herd
"Alberta's pork producers support the decision by Mr. Van Ginkel to cull these animals, it is his farm and his business decision," said Paul Hodgman, Executive Director of Alberta Pork. "Although not common, it is not unusual for swine producers to cull their entire herd in order to eradicate diseases and start fresh with a new swine herd."
A cull at the farrow-to-finish operation took place late last week with the presence of federal and provincial animal health experts and animal welfare officials. Officials assisted the producer by ensuring the cull took place under humane methods and that precautions to protect animal and human health were taken. All animal carcasses were safely disposed of in accordance with government requirements. No meat or pork products will enter the human food or animal feed chain.
Van Ginkel will apply to government for financial assistance under the existing AgriRecovery and AgriStability programs to address losses associated with the culling of his animals, the costs of cleaning and disinfecting his operation and the time he is out of production.