AgFeed Industries' take-over of M2P2 LLC complete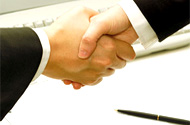 AgFeed Industries, Inc., one of the largest independent hog production and animal nutrient companies in China, announced that it has completed the acquisition of M2P2 LLC based in Ames, Iowa.
M2P2 is a leading U.S. hog production company, having set standards of excellence in innovation, productivity and efficiency in pork production. M2P2 is a joint venture partner with AgFeed in AgFeed International Protein Technology Corp. ("AFIPT"). With 215 employees, M2P2 has operations in: Colorado, Iowa, North Carolina and Oklahoma and produces 1,300,000 market hogs annually. The aggregate consideration AgFeed paid to acquire M2P2 is approximately $25.6 million, which is subject to post-closing adjustment.
©
In connection with the completion of this acquisition, Mr. John Stadler, M2P2's Chairman will become a member of AgFeed's Board of Directors.
©
Added wealth and experience to hog©production team
Dr. Songyan Li, AgFeed's Chairman, stated, "M2P2's commitment to continuous performance improvement has laid the foundation of a solidly profitable business that we are happy to bring into the AgFeed group. The M2P2 team will add a wealth of experience and resources to our hog production team and will put our combined business in a position to pursue growth opportunities on an international basis. We look forward to the contributions that M2P2 will make in assuring the success of our western-style farms in Dahua and Xinyu as well as providing us with the benchmarks and technologies to drive continued improvements in our established production systems."
©
Glenn McClelland, M2P2's President and CEO, added, "Our entire team is looking forward to the opportunities to grow our business as part of AgFeed. We believe that there are significant growth opportunities that can be unlocked and available through this business combination as together we become a leading global hog producer."
Mr. Junhong Xiong, AgFeed's President stated, "The acquisition of M2P2 presented AgFeed with an unique and compelling opportunity to add a significant and profitable operation on a fair and favorable basis as measured by M2P2's book value, profitability and cash flow. AgFeed's revenue base will nearly double in connection with this acquisition."
©
Related websites:
©
©