AgFeed Industries announces stocking agreement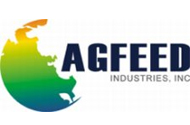 AgFeed Industries, Inc., one of the largest independent hog production and animal nutrient companies in China, announced an agreement on terms for the stocking of the first phase of the Xinyu production pod starting in the fourth quarter of 2010 with PIC (Pig Improvement Company), a division of Genus PLC .
©This stocking will include 16,800 high health-breeding females and the Grand Parent stock to create a closed herd multiplication ("CHM") system. The CHM system is the best system available in China for maintaining high health production units.
©
AgFeed's production pod development in Xinyu, as previously announced, is being pursued in partnership with local government as part of the strategy of AgFeed, Government & Farmer. Phase one of this development includes three 5,000 head sow farms and a boar stud to support future growth. Phase two of the Xinyu production pod will add two more 5,000 head sow farms bringing the Xinyu total to 25,000, capable of producing over 550,000 market hogs annually.
©
Gerry Daignault, CEO of AgFeed's Hog Division, commented that; "This relationship will allow AgFeed access to PIC's world-renowned base of genetic material and expertise in sufficient quantity to allow us to meet our growth targets. It represents another step forward in assuring that we will reach our goal of 2,000,000 market hogs by 2015. The relationship also shows the support of AgFeed's strategy by industry leaders."
©
Genus applies science to animal breeding.©It creates advances in animal breeding through biotechnology and sells added value products for livestock farming and food producers. Its non-genetically modified organism technology is applicable across all livestock species but is only commercialized by Genus in the bovine and porcine farming sectors. PIC is the international leader in providing genetically superior pig breeding stock and technical support for maximizing genetic potential to commercial pork producers.
©
PIC combines quantitative sciences with leading edge biotechnology to develop non-GMO breeding stock that allows major producers to breed healthier animals that cost less to produce and provide higher quality products to consumers. PICmarq (TM) is PIC's brand name that describes all of its marker-testing technologies. Operating for almost 50-years, PIC's success is attributed to its thorough concentration and significant investment in aspects of genetics, technology and health.
©
Related websites:
©