African Swine Fever spreading, European Russia threatened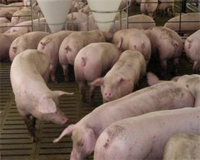 All European parts of Russia may soon be affected by African Swine Fever as the virus has made its way to central Russia.
"We are on the verge of a new wave of proliferation of the virus," stated Nikolai Vlasov, deputy head Rosselkhoznadzor (the Federal Service for Veterinary and Phytosanitary Surveillance). Vlasov further added that five small farms in the central Russian region of Tver bordering the Moscow region had been registered to have been affected by the disease this year.
Outbreak of African Swine Fever in Tver Oblast
Rosselkhoznadzor reported on 10 June the outbreak of African Swine Fever in Tver Oblast . ASFV genetic material was detected in the samples of pathological material taken from a pig in the backyard in the Danilovskoe village, the Kalininsky Rayon, the Tver Oblast by the FGI "Tver Interoblast Veterinary Laboratory".
The pathological material samples were sent to the All-Russia Research Institute of Veterinary Virology and Microbiology of the Rosselkhozacademy to confirm the diagnosis.
A report by Reuters stated that Rosselkhoznadzor had previously this year pushed for a programme to eradicate ASF within seven years, costing around $400 million, however, the government has not approved this.
"If things continue to go as they do now in the Tver region, where wild boars are plentiful, the northwest of the country may soon start resembling the south," Vlasov stated.
Related websites: