African Swine Fever reported in Rostov region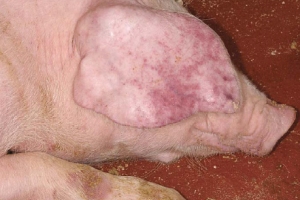 An outbreak of African Swine Fever has been reported in the Tselinskii area of Russia's Rostov region. This is the first time this year the Russian Service for Phytosanitary and Veterinary Surveillance reports the disease in this region.
The disease was reported on August 13, in seven animals of different ages on a private farm. The head of the Rostov Region veterinary service, Sergei Kartashov, qualified this outbreak as 'very dangerous' as it happened some while ago but the farm management failed to report it.
Near the farm, corpses of over 100 pigs were found, that possibly perished as a consequence of ASF and had been buried to avoid questions.
According to Tselinskii Veterinary Service, Rosselkhoznadzor's regional office, the number of live pigs on the farm was 960. Pathological samples from the fallen pigs were examined at the Rostov Regional Veterinary Laboratory, and these indicated that ASF was the cause of death.
As the result, in total about 1,150 animals (the 960 in the farm and 190 in a 5 km radius) will be culled. Viacheslav Vasilenko, Rostov's minister of agriculture and food, the region is currently carrying out a range of measures to counteract the spread of the disease.
He said, "The risk of ASF virus penetration into the territory of the Rostov region was very large, since our proximity to the Volgograd and Krasnodar regions, where recently major outbreaks of the disease were found. We were inside the circle of African Swine Fever."
"So, first of all, our security largely depends on the vigilance of the owners of farms and private farms. In addition, it is also necessary to have a coordination of actions against ASF with neighbouring regions."
Related website:
Rosselkhoznadzor