African Swine Fever in Kalmykia – third wave expected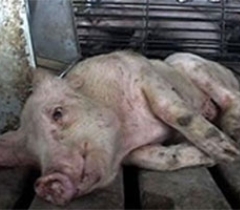 In the Russian republic of Kalmykia, another outbreak of African Swine Fever has been confirmed. As spring is easing weather conditions in Russia, the outbreak marks the fourth report in a fortnight. Experts had already been suggesting a third wave of ASF in Russia would start this spring.
The African Swine Fever (ASF) virus was reported by Stavropol Interregional Veterinary Laboratory, having researched samples of pathological material. These were selected from two dead pigs from a private farm in the village of Verhnii Yaskul, Celinsky District, Republic of Kalmykia.
The Russian Federal Service for Veterinary and Phytosanitary Surveillance (Rosselkhoznadzor) reported that as a consequence, a 5 km emergency zone around the farm has been set up. In this zone there are several additional farms with a total of about 100 pigs. Special measures to localise infections and prevent further spread of the disease are being carried out.
Kalmykia is located is located south of Volgograd, where two recent outbreaks were confirmed.
Third wave
The outbreak wave may not come as a surprise. Earlier this year, experts of the Russian analytical agency Agro ru.kom, already suggested that ASF spreads cyclically through Russia. They expect Russia to be on the verge of the third wave of the disease, which could affect all regions of European Russia.
Their research pointed out that the third wave of ASF would begin early spring of 2012, when strong cold will no longer be an obstacle to the spread of the virus in the territory of the country.
The four recent outbreaks of African Swine Fever appear to confirm this theory, as in the month before not even one was registered. Weather conditions prevented the spread of the virus but not everywhere – particularly Krasnodar region has a relatively warm climate so the massive January outbreaks here became possible.
According to estimates by the Federal Statistical Service of the Russian Federation in 2011 the direct and indirect losses from ASF amounted to 8 billion roubles (US$ 260 million). Agro ru.kom says in 2012, this figure could double.
Related website:
• Rosselkhoznadzor
(By Vladislav Vorotnikov)