African Swine Fever hits Cameroon, 100,000 animals could be lost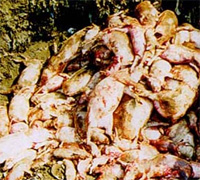 Cameroon has been struck by a fresh outbreak of African Swine Fever (ASF). Northern Cameroon is facing the disease and it has been reported that as many as 100,000 animals could be lost due to ASF.
The disease was present in the country in December last year, however, it was believed to have been under control. But the country is in the grips of the new outbreak, which has resulted in the culling of hundreds of pigs.
"I had over 200 pigs ready for the market and was planning on conveying them to the south of the country when disaster struck about a fortnight ago. The animals suddenly began dying and then the authorities issued a ban on the movement of pigs and before I knew it, they came and killed all of my livestock numbering over 300 animals. I don't know where I go from here," stated pig farmer Robert Ngaikoumi.
There is currently no vaccine for African Swine Fever, and there are fears that the disease could make its way to Chad and Nigeria.