A multi-talent in the medicine chest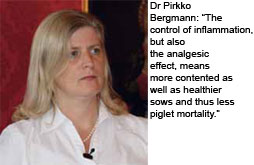 The drug ketoprofen represents a breakthrough in veterinary medicine for fast treatment of pain, fever and inflammation. It can be used in various different ways.
The active ingredient ketoprofen – marketed in the pig veterinary medicine Dinalgen by Bayer – was first recognised as a fast-acting anti-inflammatory drug. Now it's on the market as a multi-talent: a painkiller as well as fever reducer and anti-inflammation treatment. It can be injected for reducing fever with bronchial/lung infections or for MMA complex diseases and dysgalactiae (farrowing fever) with sows. But it's also the first anti-inflammatory drug available in liquid form for treatment via drinking water.
Quick acting, explains Dr Pirkko Bergmann, product manager within the Bayer Vital livestock division, also means fever or inflammation can be reduced within one or two hours. Used in drinking water for alleviating breathing difficulties and associated high temperature with feeding pigs at just 0.5 to 1 ml per 100 kg liveweight, a 24-hour treatment is normally all that is required.Ketoprofen works by inhibiting the production of transmission substances – prostoglandins – normally set free when inflammation begins in tissue. The control of inflammation, but also the analgesic effect, means more contented as well as healthier sows, argues Bergmann. In one trial where sows were given a prophylactic injection just after farrowing, the 17 treated animals averaged 11.12 weaned piglets while 17 untreated control weaned an average 10.06. But whatever way the product is applied, as injection or solution in drinking water, there's another definite advantage with ketoprofen: it can be used in combination with antibiotics. Why is this so important? "It offers a more complete treatment where, for example bacteria are involved," explains Bergmann. "After farrowing, for example, it allows early control of the pathophysiological effects from bacterial infection endotoxins." The action complements the NSAID (Non Steroidal Anti-inflammatory Drug) effect. And this all-round approach is financially important when the effect on feed intake, daily liveweight gain and feed conversion is considered. There's also the important prophylactic effect, adds Bergmann, of tackling inflammation early on before it becomes chronic.
Trials
Veterinary Dr Dirk Homann from Sendenhorst near Münster in Germany conducted trials with 144 sows where half were treated post farrowing with ketoprofen plus antibiotic and the rest with antibiotic only. The ketoprofen was administered at 3 mg per kg liveweight. While fever was recorded with almost 25% of the sows given antibiotics only, less than 15% of those orally treated with ketoprofen plus antibiotics had increased temperatures. The solid result of this field trial was that the piglet mortality of the ketoprofen + antibiotics group was reduced by 2%.
A trial by the animal health company itself, with 78 feeding pigs receiving 3 mg ketoprofen/ kg liveweight orally comparing treatments with and without antibiotics indicated that fever was reduced from an average 40.3°C (rectal) on day one to below 39.8°C on day two for the ketoprofen + antibiotic group. Those animals on antibiotic alone only managed a 0.1 – 0.2SDgrC reduction in the first day (although complete recovery was achieved on day three).The combination of this NSAID with antibiotic in such treatments was important, concludes Bergmann, because of the very early inhibition of bacterial infections. Clinical symptoms were relatively quickly dealt with and at the same time the reduction of pain, fever and inflammation associated with the NSAID medicine meant that the animals started to 'feel better' with related improved appetite and water intake. And the rapidity of recovery also avoided inflammation becoming a chronic problem.