A future urban lifestyle for pigs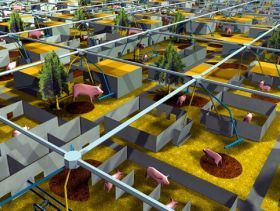 Agriculture is changing. Fuelled by altered views on the way we should produce our food in combination with growing human population we see farms grow bigger and become more efficient. The basic principle for this expansion has always been: more production! However, buzz words such as sustainability, green and carbon footprints force us to re-evaluate the way (and moreover where!) we produce our daily food. In contrast to single farms getting bigger, initiatives such as "urban farming" – that integrate multi systems at one urban location seems to be gaining interest.
By©Emmy Koeleman
The urban farming principle is the practice of cultivating, processing and distributing food in, or around (peri-urban), a village, town or city. The Food and Agriculture Organization of the United Nations (FAO), has defined urban farming as: "An industry that produces, processes and markets food and fuel, largely in response to the daily demand of consumers within a town, city, or metropolis, on land and water dispersed throughout the urban and peri-urban area, applying intensive production methods, using and reusing natural resources and urban wastes to yield a diversity of crops and livestock."
This concept contributes to food security and food safety in two ways: first, it increases the amount of food available to people living in cities, and, second, it allows fresh vegetables and fruits and meat products to be made available to urban consumers.
Pig city
Urban farming can be small but also big. An extreme example of urban farming is "pig city", a concept by Dutch architectural firm MVRDV. Pig City proposes 76 towers, each measuring 622 metres in height. The pigs are kept on the 87×87-metre floors. Large balconies allow the animals to rummage around under trees outside. A central abattoir is housed in the plinth, and pigs for slaughter are moved in lifts. On top is a fish farm that supplies some of the food needed. Each tower also contains a central slurry-processing plant and a biogas tank, which easily caters for the tower's energy needs. To reduce transport costs, 44 towers are located in the port; the other towers are located close to major cities.
Ethical issues
Although Pig City is a concept, MVRDV stresses its feasibility. But can it, should it, must it be implemented? We cannot deny that the current industrial agriculture system is accountable for high energy costs for the transportation of foodstuffs. The average conventional produce item travels 1,500 miles, using, if shipped by tractor-trailer, one gallon of fossil fuel per hundred pounds. In the last two years focus on carbon emissions arising from transporting agricultural produce around the world from production areas to markets, and in particular by air, has created a lot of debate.
The carbon footprint of agriculture ("the total set of GHG (greenhouse gas) emissions caused directly and indirectly) can therefore be considered unnecessary high. The energy used to transport food is decreased when urban agriculture can provide cities with locally-grown food. The future of urban farming will include radical measures such as the porcine towers, but most will likely comprise countless small operations. The idea of having these mega buildings for animals seems a uncomfortable idea, but if animal welfare, sustainability, waste management and costs will be managed better than in current pig farms, what else is their to debate?
I end this blog with a nice quote from Carolyn Steel from her book on this topic: 'Hungry City: How Food Shapes Our Lives', (2008).
'Man and corn – it all comes back to that. Cultivation and civilization, city and country, paradise and hell: food has always shaped our lives, and it always will. Our legacy to those who inherit the earth will be determined by how we eat now – their future lies in our knives and forks and fingers.'