80% top pig nutritionists: 30 pigs weaned per sow/year is realistic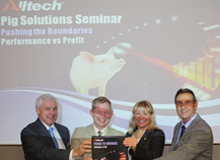 Performance vs. Profit – Why can't we have both? This was the question addressed by 110 top industry professionals at Alltech's Pig Solutions Seminar, held in Alltech's European Bioscience Centre in Dunboyne, Ireland on the 11th of October 2011.
The seminar looked at how drastic changes in the human population, such as Asia's growing middle class and an extra 200,000 people globally per day will affect the pork industry. Specifically, it focused on how to adjust existing paradigms to keep up with the new demand for meat while staying profitable.

"A change of focus is required," said Patrick Charlton, Alltech's European regional director, "70% of the growth in global meat demand will come from Asia. Who will produce this meat? Europe has held its ground in terms of technical development and ability but Brazil and the USA continue to have the lowest cost of production. It's time for all regions to find the performance-profit balance to be able to provide for this new population dynamic and keep pork as the number 1 global animal protein."
Key messages from each of the six speakers:
"The global food system will experience an unprecedented confluence of pressures over the next 20 years. Our challenge is to produce more for the growing population; produce better with a focus on food safety, health and wellness; and to do this with fewer resources and an emphasis on sustainability and animal well being" – Dr. Luciano Roppa, Provimi, Brazil.
"These are new concepts that do not necessarily fit into our classical understanding of nutrition or our current nutritional experience. However, with proper implementation, programmed nutrition can give us improved carcass characteristics, altered meat composition and consistency, antibiotic-free nutrition, improved shelf life and moisture content, without compromising the cost of production." – Dr. Karl Dawson, vice president and chief scientific officer, Alltech, USA.
"Amino acid requirements are greater in late than in early and mid gestation and greater in younger than in older sows. Energy requirement increases in late gestation. Parity-segregated phase feeding means the right amounts of nutrients at the right time. It saves on feed cost, improves production and results in improved production economics." – Dr. Soenke Moehn, University of Alberta, Canada.
"Our main finding is that you can predict the extent of heat damage in any feed ingredient if you calculate the lysine to crude protein ratio. This is very easy to utilise in the field, all you need is a standard for each ingredient. If you realise that you have a lower lysine to crude protein ratio, then you know that you need to add extra synthetic lysine; allowing you to maintain performance by reducing variability." – Prof. Hans Stein, University of Illinois, USA.
"Diseases go where pigs go. Long distance pig movements will complicate disease control and prevention. In addition, high density pig production increases disease complexity and the evolution of more virulent diseases. Rigorous monitoring for changes in herd immune status, and identification of virus strains is essential for making strategic decisions for control and prevention." Prof. Michael Murtaugh, University of Minnesota, USA.
"We increasingly realise that the boundaries of the pig, for example growth capacity or disease susceptibility, are programmed by its early nutrient supply. Better understanding and quantification of the mechanisms involved will help us to develop customised feeding programmes that further improve the health and performance of the animals" – Dr. Paul Bikker, Wageningen UR Livestock Research, The Netherlands.
110 top industry professionals attended the Alltech Pig Solutions Seminar, of those surveyed:
80% believe that 30 pigs weaned per sow per year is realistic.
Opinions were divided over whether the carbon footprint of pork will become increasingly important over the next decade, with 69% agreeing that it will be increasingly important and 20% disagreeing.
88% of attendees agree that managing herd health is one of the industry's biggest challenges.
In terms of programmed nutrition and metabolic imprinting, 23% think that it will impact greatly on feed efficiency alone and 44% think that it will impact greatly on feed efficiency, pig health and product quality.
Attendees were divided again on the issue of feed costs, with 57% agreeing that low feed costs are a thing of the past and 35% disagreeing with this statement.
35% think that the recent contamination scares in China will result in more stringent regulations enforced on feed suppliers, animal producers and processors.
29.5% also think that the contamination scare will make consumers more aware of potential contaminants within the food chain.
Photo caption: Left to Right: Prof. Michael Murtaugh, University of Minnesota; Prof. Hans Stein, University of Illinois; Dr. Jules Taylor-Pickard, Alltech and Dr. Luciano Roppa, Provimi pictured at the Alltech Pig Solutions Seminar – Pushing the Boundaries: Performance vs. Profit, which took place in Dunboyne, Ireland on Tuesday, 11 October 2011.