3,000 sow nucleus herd stocked by JSR – unit opens in Russia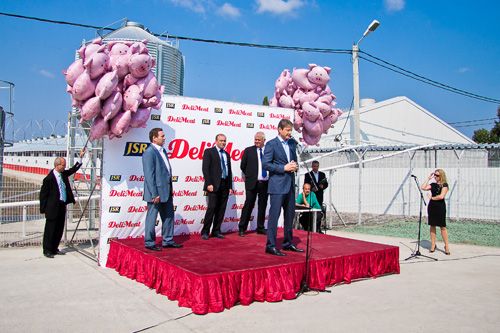 Russian dignitaries, local press and national TV, gathered at the official opening of the Delimeat Farming Complex, a 3,000 sow nucleus herd stocked by JSR Genetics, to celebrate a future full of promise.
Over a million roubles have been spent in modernising the model farm, which is expected to sell over 15,000 gilts a year, and generate £5 million of pork throughout the Kuban region.
Stocked by JSR Genepacker GP Gilts – large white and landrace – and JSR Geneconverter 700 Boars the contract for this, the most advanced farm in Southern Russia, has given JSR a major boost in this fast growing market.
"This is a tremendous moment," confirms Paul Anderson, JSR's international sales director. "We have worked closely with Getka Marek Ireneush, managing director of Delimeat and his team, to select breeding stock that will make the most of all that they have done at the complex and a market that is ripe for investment. The Governor of Kuban, Alexander Tkachev, in his opening speech,
stressed the region's growing demand for quality food and the belief that only quality genetics – backed by highly skilled, technical services – could satisfy that demand. At JSR we are very proud to be playing such a key role in the region's future."
"In the JSR Genepackers we found the highly prolific, docile dam line that we were looking for, with great mothering ability," said Jacek Wozay, contract farm manager. In the sire line, we were looking to combine feed efficiency with a high yield of lean meat and, of course, we wanted all animals to be robust and capable of thriving. JSR were able to offer a great choice of the highest quality genetics."
Despite its official opening, the farm has been operational long enough to return inspiring first year figures from its first and second parity Genepacker nucleus gilts, including a 90% farrowing rate, 12.75 total born alive per litter and 10.96 weaned.
"JSR have also provided expert help in the form of Simon Grey of Checkfarm Consulting Limited, whose efforts on our behalf have been really appreciated," said Getka Marek Ireneush. "He has helped to fine-tune the entire pork production system from reproduction to packaging, giving us great confidence in the future."
Such a complete production cycle, from insemination and breeding to packaging, whilst unusual is becoming more common in Kuban. In its attempts to combat disease, the region's industry is now becoming more integrated, more sophisticated with larger farms, including five of around 100,000 animals.
"Jacek Wozny and his team have worked tremendously hard to overcome the health issues that have beset the industry in the past, and this new farm is a model of efficiency and biosecurity," concludes Mr Anderson. "I know that they are hoping to increase production next year by 2 billion roubles. Being involved at this stage has put JSR in an excellent position and we will be seeking to capitalise on this to establish new partnerships and opportunities."