Whole-herd approach for effective PRRS control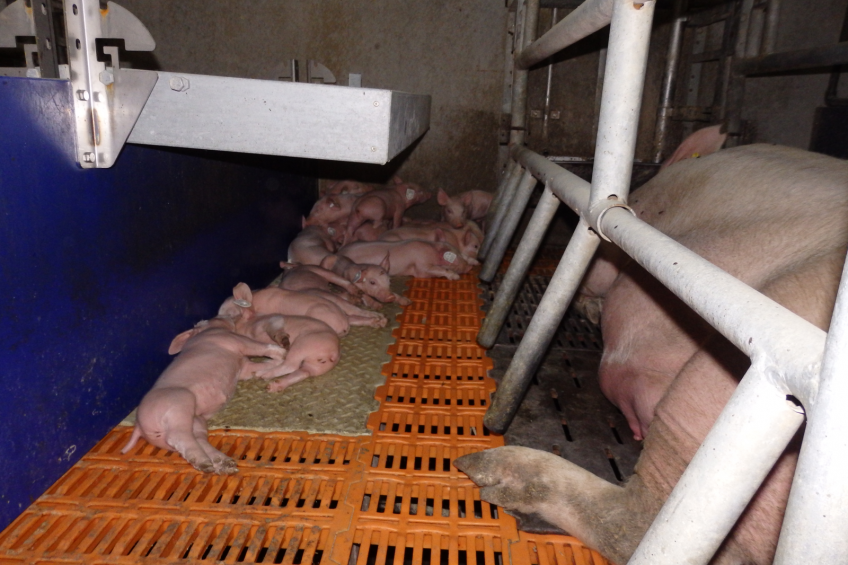 In pig dense areas, the effect of highly prevalent Porcine Reproductive and Respiratory Syndrome (PRRS) can be overwhelming. Whole-herd protection against the virus' devastating effects is a sustainable way to control infections, transmission and the ?negative effects on production.
PRRS infection causes poor reproductive performance in breeding herds, as well as respiratory disease, slower growth and increased mortality in growing pigs. PRRS affects all types of herd, irrespective of size or health status. It is widespread geographically in Asia, Europe and the Americas and PRRS is considered to be the most economically important viral disease in the main pig production countries across the globe.
Due to difficulties in eradicating PRRS from areas or countries, linked to biosecurity challenges and transmission of the virus within and between farms, successful control of PRRS requires a combination of strict management measures and vaccination of both sows and piglets, also characterised as whole-herd vaccination.
Basic elements of PRRS control
It is well known, that in order to control PRRS virus in a herd, there are three major requirements:
Prevent infection, by preventing introduction of a new virus through optimisation of biosecurity and pig flow management.
Maximise immunity, by establishing a solid immunity in the whole herd through vaccination of both sows and piglets with a vaccine which is effective across a wide range of PRRS strains.
Minimise exposure, by reducing circulation of the herd's PRRS virus (resident) using a PRRS control programme, tailored to the needs of the farm.
It is obvious that vaccines used for this purpose should have some basic features; PRRS vaccines should induce strong heterologous immunity, in order to deliver clinical protection and prevent infection and reduce virus shedding to block the chain of infection within a herd, without any residual pathogenicity. In other words: a safe, stable and efficacious vaccine.
New vaccines approved
Boehringer Ingelheim Animal Health has recently registered two new PRRS Modified Live Virus (MLV) vaccines, called Ingelvac PRRSFlex EU for pigs, and ReproCyc PRRS EU for sows, to fulfill the requirements mentioned above. Both vaccines are recommended for use in whole-herd PRRS control programmes, where all animals in a herd are vaccinated.
The piglet specific vaccine has been shown to reduce lung lesions, virus load in blood and lung tissues as well as negative effects of PRRS infection on daily weight gain. The vaccine is able to reduce the respiratory clinical signs related to PRRS.
Sows vaccinated with the sow specific vaccine have significant shorter viraemia. In addition, in this group lower numbers of sows were found to be viraemic after exposure to PRRS virus, compared to unvaccinated controls. This resulted in a significant reduction of the negative reproductive disorders associated with PRRSv.
Not only is the vaccine able to reduce the transplacental virus transmission after challenge, it also reduces the negative impact of PRRS virus infection (mortality, clinical signs and weight gain) during the first 20 days of life in piglets born from vaccinated sows.
This vaccination approach allows for protection of the sows against PRRS related reproductive disorders and also to protect the offspring until they can be protected by the piglet vaccination for the rest of their life.
All these features are key elements when a herd wants protection against the negative production effects of the PRRS virus. Especially in pig dense areas, it is extremely important to use vaccines that effectively prevent infection, maximise immunity and minimise exposure.
Trials in the field
The vaccines have already been used successfully in farms in different parts of Europe, with various PRRSv type 1 subtypes. In these farms the resident field viruses in the farms were always different from the virus on which the vaccine is based, a so called heterologous challenge. This means that the vaccine fulfilled the requirement of giving a broad heterologous protection against circulating European PRRS strains.
Hungary
The vaccines were tested in piglets born to sows regularly mass vaccinated with MLV vaccine. In a Hungarian farrow-to-finish herd of approximately 600 sows, positive for PRRS type 1, subtype 1, with 87% ORF5 similarity to the piglet vaccine described above.
The aim of the study was to compare the efficacy of the piglet vaccine to a mock (PBS) vaccinated group in two and three week old piglets born to sows mass-vaccinated twice with the sow PRRS vaccine as described above. Because the sows were vaccinated, the study could also assess if there was interference with vaccine efficacy coming from homologous maternally derived antibodies.
Responsible for this study was Dr Gyula Balka, from the Department of Pathology at the Szent István University, Faculty of Veterinary Medicine (SzIU FVS), in Budapest, Hungary. He presented the results of this field study at the International PRRS Congress held in Ghent, Belgium, earlier this year. He concluded:
Vaccination of two and three week old piglets significantly reduced incidence of viraemia and viral load after natural exposure with a genetically distinct field strain; and
High levels of maternal antibodies did not reduce efficacy.
With regard to the vaccinated sows in this study, he concluded that the vaccinated sows had:
High antibody levels proving successful seroconversion and vaccination;
Few systemic and local reactions.
[([002_757_rb-image-2694865.jpeg]:inzetmiddel)]
György Papp – farm manager at Jaszapati Farm, Hungary
"With the new vaccines, there were much fewer side effects than before in sows and also with the piglets. With the BI vaccine we had better production figures, lower losses and higher average daily weight gain. This was the best control of PRRS: to vaccinate both sows and piglets."
Germany
The sow vaccine's safety features were confirmed in another study, also presented at the international PRRS Congress in Ghent. The authors, Stadler and colleagues from the Swine Clinic at the University of Munich, Germany, concluded that local and systemic reactions were not often observed in pigs receiving the sow vaccine, therefore supporting the field safety of the vaccine in sows and gilts at various stages of gestation. Analysis of data from the same study showed that the piglets from the vaccinated sows had a high weaning weight, and a high survival rate.
[([003_952_rb-image-2694867.jpeg]:inzetmiddel)]
Mr and Mrs Grosse Hartlage – 
study farm in Germany
"We vaccinate sows three times a year and piglets at two weeks of age. Secure vaccination is very important for us. There was no sickness with the sows and the piglets due to vaccination with ReproCyc PRRS EU and Ingelvac PRRSFlex EU." Also in the picture is BI scientist Dr Christian Kraft (far right).
Protection of the whole herd
Growing pigs represent the majority of 'at risk' or PRRS infected animals in a farrow-to-finish herd. As unprotected young pigs require longer time to clear PRRS virus, they also represent the biggest threat to other pigs, rooms, barns or herds. In the end, we need to understand that unprotected piglets means unprotected herds.
Effective vaccination with Modified Live Vaccines reduces virus load and viral shedding and transmission. Therefore vaccination of both pigs and sows plays a central role in whole-herd PRRS control programmes.
[([004_506_rb-image-2694873.jpeg]:inzetmiddel)]
Mr Wieland and Mr Fehrmann – Wieland Farm, SW Germany
"Zweiflingen is a pig dense area. We have a lot of PRRS positive swine herds, and it is unlikely that PRRS will be eradicated. Security and a stable herd is important for us. We don't see how you can do that without vaccination of sows and piglets in a whole herd vaccination programme."