Virulence of highly pathogenic PRRSV influenced by Strep suis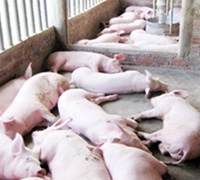 The virulence of highly pathogenic PRRS is increased when there is a secondary infection with a specific serotype of Streptococcus suis, Chinese researchers have discovered.
In a research, which was published late last year in Virology Journal, researchers Min Xu (Harbin Veterinary Research Institute, Harbin, China), and others asked themselves the question whether the presence of Streptococcus suis, serotype 7, had any influence on the virulence of the Porcine Reproductive and Respiratory Syndrome (PRRS) virus.
The research question originated as in samples, collected during the porcine high fever syndrome (PHFS) outbreak in many parts of China, these two pathogens often have been isolated together. To determine whether the coinfection was the cause of the PHFS outbreak, pigs were infected with a single and a mixed infection.
Results
Respiratory disease, diarrhoea, and anorexia were observed in all infected pigs. Signs of central nervous system disease were observed in four out of 12 highly pathogenic PRRSV-infected pigs and eight out of ten coinfected pigs; however, the symptoms of the coinfected pigs were clearly more severe than those of the HP-PRRSV-infected pigs.
The mortality rate was significantly higher in the coinfected pigs (eight out of ten) than in the HP-PRRSV-infected pigs (two out of 12) and S. suis-infected pigs (none out of ten). The deceased pigs of the coinfected group had symptoms typical of PHFS, such as high fever, anorexia, and red coloration of the ears and the body. The isolation rates of HP-PRRSV and S. suis were higher and the lesion severity was greater in the coinfected pigs than in monoinfected pigs.
In conclusion, the researchers say that HP-PRRSV infection increased susceptibility to S. suis, serotype 7 infection, and coinfection of HP-PRRSV with S. suis, serotype 7 significantly increased the pathogenicity of this serotype of Streptococcus suis to pigs.
APVS Congress
These results are in line with earlier findings, presented at the APVS Congress, in Pattaya, Thailand. There, several speakers argued that HP-PRRS may become more virulent when there is a co-infection.
Related website:
• Virology Journal