USDA – better measures to reduce antibiotic use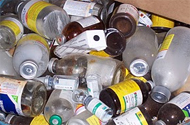 The USDA needs to take more steps to strengthen measures to reduce the "overuse of antibiotics" in livestock production. This is according to House Rules Committee Chair Louise Slaughter in a letter to Ag Secretary Tom Vilsack.
Slaughter's letter says she's pleased with USDA's response in August that it is considering an "antibiotics module" for certified large animal vets; its call for minimizing antibiotic resistance transmission through the food chain through cooperative extension agents; the USDA's plans to create a united report; and, formation of a working group on antibiotic resistance. Slaughter wants the USDA to expand its on-farm monitoring of antibiotic use and resistance as well as related research and veterinary training.
©
Slaughter says this is a critical public health issue and competition issue for U.S. livestock producers adding that the EU, New Zealand, Thailand and Korea have all banned or are starting to ban antibiotic growth promoters in animal feed. Slaughter's pending legislation would allow antibiotics only for sick animals and ban them for use in daily feed supplements.
©
[Source: Brownfieldagnews]
©