US researchers identify third PEDv strain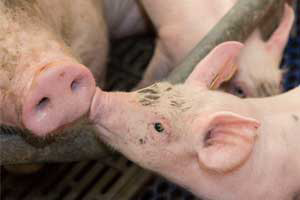 Researchers in the United States have identified a new strain of Porcine Epidemic Diarrhoea virus (PEDv), which is as, if not more, virulent as the initial strain that emerged in the US in early 2013.
Assistant professor of veterinary population medicine at the University of Minnesota, Douglas Marthaler, reported the strain in a journal from the US Centers for Disease Control and Prevention last month. Marthaler believes this strain is a mutation of the original.
Marthaler was quoted by Reuters as saying that it is the nature of viruses like PEDv to evolve as they replicate: "The virus is always changing."
Although the new strain has only been identified now, it is not sure how long it has existed without detection. It is also unclear if the new strain even exists outside of Minnesota.
A second strain of PEDv, was first reported in February 2014 by the Ohio Department of Agriculture, it is considered to be a less virulent strain.
PEDv outbreaks map – follow the spread of the virus