Two new outbreaks of ASF in Rostov, Russia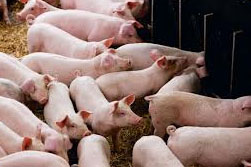 Two new outbreaks of African Swine Fever (ASF) has been reported in the Rostov region in the Central European part of Russia, this was reported recently by the Russian veterinary watchdog Rosselhoznadzor.
The first outbreak was detected in Sholokhov District on June 7 at Turilin farm which is located in the Antipova village. It killed 20 pigs.

The sample study which was conducted at the Main Veterinary Department of the Rostov Region gave a positive result for presence of ASF. Five square kilometers around the outbreak has been declared a state of emergency. Here 800 pigs are located on peasant farms, reported Rosselhoznadzor.

The second outbreak was reported in the Verhnedonski area. At a waste deposit site near the Kazan rural settlement a dead pig was found. Samples taken also showed positive results for ASF. As a result it has been decided that about 223 pigs will be culled in the village.