Second outbreak of ASF reported on Cherkizovo farm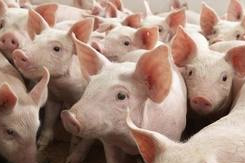 A second outbreak of African swine fever (ASF) has been reported on the farm of the Agro-Resource company, a subsidiary of Cherkizovo, in the Niznedevitsk district of Voronezh Oblast, according to the Russian veterinary body Rosselhoznadzor.
The report says that the veterinary services as a result of this outbreak will have to cull at least 18,000 heads of pigs. The first outbreak, which was detected on the production unit 2.5 km away from the current outbreak, claimed lives of 9,100 pigs.
Management of Cherkizovo have confirmed the second outbreak, however according to them it will not affect the company's production indicators this year, as the "company's budget include any possible risks of the worsening of epizootic situation," according to the message of the company.
Rosselhoznadzor has imposed quarantine restrictions on the territory of both production units affected with ASF. At the same time, the regional veterinary service express concerns that there are number of farms located nearby to the place where the last outbreak has been detected and thus the risk of the new outbreak is high.