Amid recent calls to promote a more circular economy, a team of researchers from universities in the UK and Belgium conducted a survey of 82 pig farmers and 81 other agricultural stakeholders at the most recent UK Pig & Poultry Fair, held in May 2016. The scientists informed about their attitudes toward the use of food losses in pig feed, and the potential relegalisation of swill (the use of cooked food losses as feed).
The outcome of the research was published in the online peer-reviewed scientific journal PLOS One in April 2018. Earlier, also Pig Progress' sister title Farmers Weeklyalso did a poll at this same trade show.
Strong support for relegalisation of swill
The researchers wrote: "While most respondents found the use of feeds containing animal by-products or with the potential for intra-species recycling (i.e. pigs eating pork products) to be less acceptable than feeds without, we found strong support (>75%) for the relegalisation of swill among both pig farmers and other stakeholders."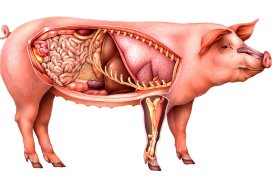 Read more on pig health in the Pig Progress Health Tool
Aiming to understand the people's relegalisation of swill, they wrote: "Respondents who were concerned about disease control and the perception of the pork industry supported relegalisation less, while people who were concerned with farm financial performance and efficiency or who thought that swill would benefit the environment and reduce trade-deficits, were more supportive."
Consumer acceptance of swill-fed pork
The survey included 18 questions, including the acceptability of 10 different sources of food losses in pig feed.
Based on the survey, the researchers concluded, "Our results provide a baseline estimate of support amongst the large-scale pig industry for the relegalisation of swill, and suggest that proponents for its relegalisation must address concerns about disease control and the consumer acceptance of swill-fed pork."
Controversial issue in pig business
The topic or relegislation of swill feed is very controversial, as many compound feed producers strongly emphasise feed safety. Often, there are references to diseases as African Swine Fever (ASF) or Foot-and-Mouth Disease (FMD), which are a risk when feeding swill.
Especially in 2001, the FMD outbreak in the United Kingdom led to a virtual ban on the use of food losses in animal feed. More than often, professional organisations like e.g. the UK National Pig Association, have warned about the use of food waste in pigs.
Legislation limits the potential for nutrient recycling
The researchers stated, "These regulations deliver a safe food system to millions of Europeans, though they are not without their trade-offs. The current legislation limits the potential for nutrient recycling and a circular economy-food losses that are not used as feed are instead disposed of in less efficient ways, lower down the food waste hierarchy."
The article in PLOS One was authored by Erasmus K.H.J. zu Ermgassen, Eleanor Bladon, Ramy Salemdeeb and Andrew Balmford, Cambridge University, UK; and Moira Kelly, Ghent University, Belgium.