When building a new pig house, pig producers are usually very critical on every penny spent. Coen Beerens, age 49, a gilt breeder from Nederweert-Eind in the south of the Netherlands, decided, in 2015, for once to go against the tide and to invest that little extra. In that year he expanded his farm with an additional house for 2,000 breeding gilts, right next to an existing one built in 2009.
The investment was all about energy saving, says Beerens, as for the quality of gilts it doesn't matter in what house they grow up. While both pig houses were equipped with additional heating on the basis of biomass, in the newer of the two, a system to heat incoming air was also added.
Heat exchanger
Heating the incoming air is achieved by using a water-air heat exchanger. This can be found by taking a closer look at the air inlets, which are located parallel to the outside walls of the new facility. Incoming air is first controlled by a wind compensation system, which controls the air inlet flaps, minimising disturbances due to outside weather conditions.
Right behind the flaps is the heat exchanger, consisting of a tight, multilayer system of endless parallel thin tubes, which contain flowing relatively warm water. "That way, incoming air can be warmed from -10°C to +5°C in winter," explains Erwin Stienen, director at Dutch climate control company Stienen BE and manufacturer of the heat exchange system. Stienen says, "This means that inside a pig house, not too much additional heating is necessary."
He points to pre-heating of incoming air being necessary to keep pigs healthy, saying, "The draught effect is dependent on temperature. Cold air usually behaves like draught and is usually moister. Moist is often a source of problems."
The company is mostly known for its computer-controlled climate systems, but has been working on the heat exchanger, called Aerox, for several years. It got its inspiration from the application of heat exchangers in various other industries. In agriculture, climate plays a big role, as air inlets are sensitive to extreme weather conditions. Stienen says, "Conventional heat exchangers may freeze – and burst." For that reason, resistance against corrosion and freezing was a key emphasis of the design of the new heat exchanger.
The company finally cast its eyes on the material Queo 0201, which is called a 'plastomere', a processed type of plastic. This innovation was shown at EuroTier 2016 in Hanover, Germany.
Stienen says, "The most important thing about this material is that it remains flexible. Of course, some tubes on the outside may freeze, but the water in the other tubes continues to flow faster in that case. The heat exchanger will remain working and will not break down."
Air scrubber
The water in the heat exchanger can get to a reasonable temperature, as the circuit takes the water to the air scrubber belonging to the neighbouring pig house. This air scrubber at the time was constructed by Inno+. In fact, an air scrubber is also a water circuit, with the exception that here everything revolves around the filtering of outgoing (warm) air. Water inside the air scrubber is heated up by outgoing air, making it an ideal source for heat recovery. By partly constructing a water-water heat exchanging system, the air scrubber's heat is being transferred into the system leading to the new pig house.
This is one way of heat recovery, but the source of the heat does not necessarily have to be an air scrubber, explains Stienen. Groundwater also offers opportunities, seeing that it is always around 11°C in the Netherlands. This also has an additional advantage: in the summer, using reverse logic, it can also be used for cooling down the pig house climate.
Old-fashioned air inlets
Back to Coen Beerens' pig facility. In his farm, a more familiar method is applied to cool down the pig house climate in summer. Apart from the inlets with heat exchangers, there are also conventional air inlets, leading to an underfloor air intake. The warmer it is outside, the more and the more wider these can be opened and the heat exchanger can be bypassed.
Apart from at Beerens farm, the novel types of heat exchangers can be seen in practice at poultry farms at various locations all around the world. For Coen Beerens it is too early to support his experience with data, but in general, his comments are positive. He says, "It's fairly simple – there's a problem when temperatures go down at night in winter. It's possible to gain something by heating – the system just heats the incoming air with about 10°C."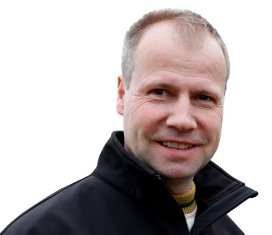 Beerens Farm, Nederweert, the Netherlands
The farm of Coen and Miranda Beerens in Nederweert, the Netherlands, is only 15 km away from the border with Belgium. The breeding facility with Topigs-Norsvin material has 650 sows. The farm breeds gilts and has two pig houses with a capacity for, in total, 3,500 breeding gilts. In addition, there is space for roughly 3,000 finisher pigs. The farm has been expanded various times in recent years; the most recent addition was a pig house for breeding animals in 2015. All pigs on-farm are fed liquid feed.