Russian Pskov region reports first ASF case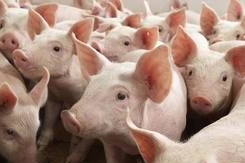 African Swine Fever (ASF) has now also touched on the Russian region of Pskov. A farm pig was confirmed to have contracted the disease on Friday.
The outbreak was found in the village of Senyukhino, Nevel district, local authorities said. Regional governor Maxim Zhavoronkov issued a decree ordering that a quarantine zone should be established and animals kept on farms within this zone be seized and slaughtered.

In the village itself there are only very few animals.

The larger Velikiye Luki pig-raising complex lies outside the quarantine zone.

So far ASF outbreaks have been registered among domestic and wild animals in 13 Russian regions and three districts in Belarus, bordering Pskov region. Emergency measures launched in northwestern Russia include sanitary raids into facilities where animal products are sold, setting up sanitary checkpoints on motorways, and the mass-scale culling of wild boar populations.