Russia spends millions to fight ASF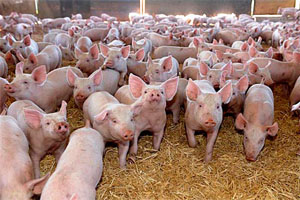 In 2014 Russia spent RUB 576.7 million (US$ 11 million) to fight African Swine Fever (ASF), reported the Russian Ministry of Agriculture.
This means that last year the veterinary services did not spend the whole amount allocated to this, which totaled RUB 896.6 (US$ 17 million).

The Agricultural Ministry report also added that last year 0.7% of the total pigs' population tested positive for the presence of ASF. Experts say that the worsening of the epizootic situation regarding ASF is forcing Russia to increase this figure.

Also experts from the Agricultural Ministry has raised concerns that the outbreak has been reported at a number of large farms last year. "The Cherkizovo in particular, one of the largest producers of meat and meat products in Russia, was forced to cull 50,000 pigs due to the outbreak," the report said.

To control the spread of ASF, Russian veterinary body Rosselhoznadzor last year conducted inspections on 4,000 of farms in the country. The report also added that the total amount of the federal budget funding for anti-epizootic measures in 2015 will amount to RUB 1.4 billion (US$ 267 million).