Russia: ASF outbreak reported in the Bryansk region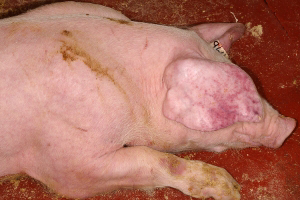 New outbreak of African swine fever (ASF) virus has been detected among wild boars the Bryansk region.
The regional department of Ministry of Emergency reported that during an inspection of the Kletnyansky territory hunting area six wild boar bodies were found. According to preliminary diagnosis the animals died from ASF contamination. The hunting area is located near the village Telc which has a number of private pig farms.

The bodies of the wild boars were immediately incinerated and samples were taken to the "Pochepy zonal laboratory" in Bryansk to confirm the preliminary diagnosis. Veterinary services are now in the quarantined area and the regional department of Rosselkhoznadzor have carried out a set of measures to prevent any further spread of the disease, the report noted.

Last week, the Ministry of Agriculture issued a report on the situation regarding the spread of ASF in Russia. According to estimates by experts the direct cost to the country's pig industry, during the period from 2007 to 2013, because of the outbreaks exceeded RUB 30 billion (US$ 1 bln).

The Ministry of Agriculture has advised veterinary services to be ready for new outbreaks of the disease, which may begin in coming weeks with the arrival of spring. As experts have repeatedly noted, the spread of ASF is constrained by the cold weather, hence almost no outbreaks reported in during the winter.