Russia allowed to import pigs from Latvia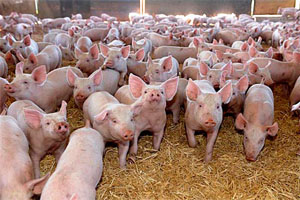 Russian veterinary watchdog Rosselhoznadzor after an almost two year ban has finally cancelled temporary restrictions on imports of breeding pigs, pork and pork products from Latvia to Russia, according to an official report. Although the the ban on the supply of commercial pigs and piglets for fattening kept is still kept in place.
Rosselhoznadzor has temporarily suspended imports of live pigs, cattle and sheep from the European Union in connection with numerous Schmallenberg virus outbreaks in the EU and the other widespread viral disease like bluetongue in March 2012.
With respect to Latvia, Russia in November of the same year introduced additional restrictions because of the spread of Classical Swine Fever in Latvia. The restrictions have been cancelled following the reports confirming that the territory of the country is free from these diseases.
However, according to the Russian Union of Pig Producers during the almost two year ban, the Russian market has changed dramatically – it no longer offers such favourable prices for pork products and cannot take as many imports from Latvia as did before.
The Russian market once was very important for Latvia. In 2011, Russia imported 16,300 tonnes of pigs in live weight which amounted to LAT14mln (US$28mln). In total the country produces 21,600 tonnes of live weight per year, so in 2011 export to Russia accounted for about 77% of the total Latvian pork production.