Russia: 41,000 pigs to be culled due to ASF outbreak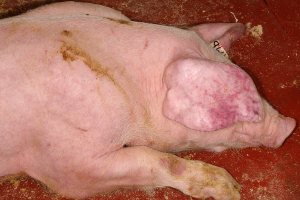 Over 41,000 heads of pigs have been culled near the city Voronezh, due to the outbreak of African swine fever (ASF) at JSC Agrokombinat Nicholaevsky, according to a report from the regional department of Russian veterinary watchdog Rosselhoznadzor.
The damage caused by the virus is estimated at RUB 309 million (US$ 9 mln), says the report from the government of the region.
Mortality of pigs occurred in mid-July and Russian vets advised that farms should only cull 10,000 – 20,000 heads of pigs which would be enough to stop the spread of the disease. However, the new cases of pig mortality at the farm forced Rosselhoznadzor to increase the number of pigs that should be culled.
Studies showed that the cause of death of the animals was African swine fever (ASF). The district has now entered quarantine.
"As a result of the outbreak in the Voronezh region, 41,186 pigs have been culled. The farm will receive compensation for each pig" said in a statement from the regional government.
In total authorities have spent over RUB 1.75 billion (US$ 50 million) on the elimination of the outbreaks of ASF in the region to date.