Research: Solvent-extracted canola meal in weaned pigs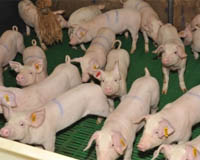 A combined Mexican/Canadian study investigated the effect of feeding solvent-extracted canola meal on growth performance and diet nutrient digestibility in weaned pigs.
The effects of feeding increasing levels of solvent-extracted canola meal in substitution for soybean meal as an energy and amino acid source were evaluated in 220 weaned pigs with an initial body weight of 8.1 ± 1.8 kg.
Trial setup
Five pelleted wheat-based diets containing 0, 50, 100, 150 or 200 g canola meal/kg were formulated to contain 9.74 MJ net energy (NE)/kg and 1.21 g standardised ileal digestible (SID) lysine/MJ NE and were fed for 4 wk starting 1 wk after weaning at 19 days of age.
Canola meal was added at the expense of soybean meal and the diets were balanced for NE using canola oil and for amino acids using crystalline lysine, threonine and tryptophan.
Results
Increasing inclusion of canola meal reduced linearly the apparent total tract digestibility of energy, dry matter and crude protein and quadratically the digestible energy content of diets.
From 0 to 28 days on trial, increasing inclusion of canola meal did not affect body weight gain, feed intake and feed efficiency.
Conclusion
Up to 200 g solvent-extracted canola meal/kg can replace soybean meal in diets formulated to equal NE and SID amino acid content and fed to weaned pigs without detrimental effects on growth performance.