RESEARCH: Impact of lameness on finisher profitability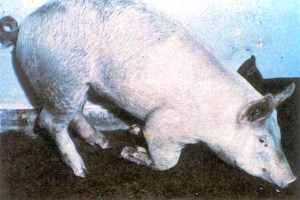 Danish scientists have published an article in Livestock Science quantifying the economic impact of lameness on finisher pigs using expert opinion. The researchers conclude that bone fractures have the greatest impact on finisher profitability.
Lameness in finisher pigs affects both animal welfare and farmers' profitability. However, information about the severity of pain and profit losses associated with individual causes of lameness is lacking.
The study quantified and compared the pain and economic impact of nine different causes of lameness (e.g., infectious arthritis, claw lesions and osteochondrosis) using expert opinion.
Six researchers working on animal behaviour and welfare and eight Danish pig veterinarians answered questionnaires regarding animal welfare and production, respectively.
The probability of euthanasia, treatment with antibiotics and analgesics, and the changes in daily weight gain and feed conversion ratio were used to calculate the resulting profit loss for a pig suffering from each of the nine causes. To accommodate the uncertainty associated with the expert assessments, simulations were performed using probability distributions based on the minimum, median and maximum values.
According to the experts, bone fractures caused the highest severity of pain and the largest reduction in profitability. Lesions to the claw wall and lesions to the volar area of the foot caused the lowest severity of pain. Arthritis due to Mycoplasma hyosynoviae and lesions to the volar area of the feet caused the smallest reduction in profitability. Considering the consequences of animal welfare and profitability concomitantly provides a transparent evaluation of the overall impact of lameness in finisher pigs.
The article is available behind a pay wall at Livestock Science