Research: Group housing lameness more common in older sows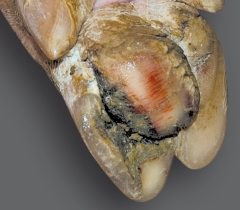 The prevalence of lameness and claw lesions among sows in group housing in Belgium turned out to be higher in older sows than in younger sows.
This was the outcome of recent Belgian research to lameness and claw lesions in Belgian pig farms.
Prof Dominiek Maes, Ghent University, and his team of Belgian scientists stated that the outcome indicates that a balanced parity distribution of sows is not only important for productivity reasons but also from a health and welfare point of view.
Aim
The aim of the study was to determine the prevalence of lameness and claw lesions in relation to group housing systems. The matter is relevant since group housing for pregnant sows will become mandatory in the EU from 2013. Additionally, the scientists aimed to analyse the type of group housing as well as sow related risk factors associated with lameness and claw lesions.
The study was performed with eight Belgian pig herds with loose housing of pregnant sows – four were in Electronic Sow Feeding systems; the other four were housed in pens with free access stalls. At the end of gestation, sows were investigated for lameness and within three days after farrowing, possible lesions of the claws of their hind limbs were scored.
Outcomes
Of the total of 421 sows that were investigated, about 9.7% was lame. The researchers did not find any real difference for lameness between the two types of group housing.
As indicated, the prevalence of lameness, however, significantly increased with increasing parity of sows. Claw lesions were seen most frequently on the wall and heel area of the claw – almost every sow had heel lesions – and there were significantly more lesions found on lateral claws than on medial claws.
Lesions
Only lesions on the heel area differed significantly between both types of group housing with higher scores in free access stalls. The prevalence of side wall lesions and overgrown (dew-)claws was increased with increasing parity.
The scientists said that breed was not significantly associated with lameness or claw lesions. Further research will focus on ways to control or prevent claw lesions in group housed sows.
The results were presented at the International Pig Veterinary Society Congress, in Vancouver, BC, Canada, in July 2010. The research was supported by the Flanders Animal Health Service, and the Belgian Institute of Agricultural and Fisheries Research.
Related websites:
• Ghent University
• Flanders Animal Health Service (in Dutch)
• Institute of Agricultural and Fisheries Research
• IPVS Congress