Pig farmers call for wild boar cull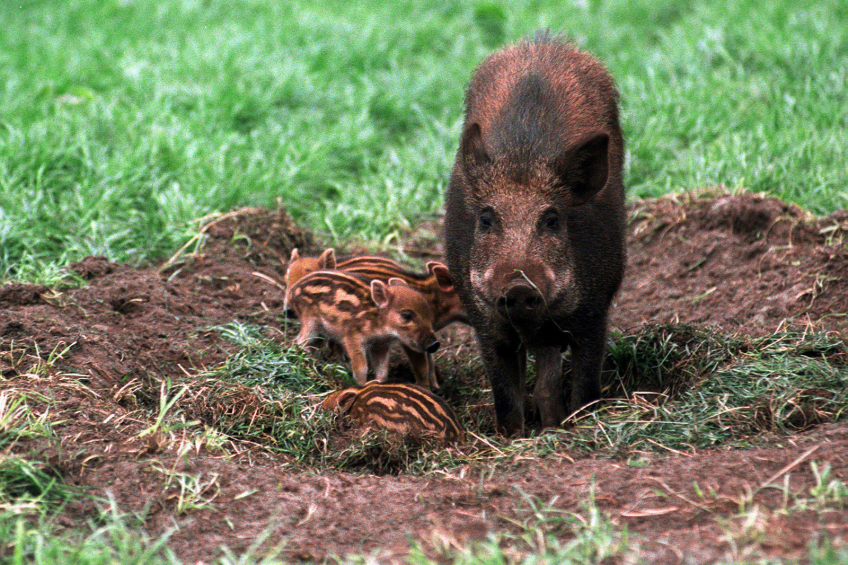 Farm leaders have called for a cull of wild boar to reduce the threat of the animals spreading disease to the UK pig population. The National Pig Association said boar should be culled in the Forest of Dean, Gloucestershire, where numbers have risen over recent years.
There are believed to be at least 600 and possibly more than 800 wild boar in the forest, with the population spreading to neighbouring areas.
Spread of wild boar a real worry for pig producers
NPA chief executive Zoe Davies said the spread of wild boar was a real worry for pig producers. "We need to control this population," Dr Davies told an NFU council meeting at Stoneleigh Park, Warwickshire. "The problem is that these boar aren't all classic wild boar – some are feral because they have been farmed and then released. They have mixed with domestic pigs so not only have they more per litter than the average wild boar, some are having more than one litter per year."
African swine fever
African swine fever had already infected four EU countries, said Dr Davies. "Most of the new cases cropping up are in wild boar and the problem with is that we can't actually predict where they are going to pop up next – wild boar don't stick to boundaries." The biggest problem was "backyarders" or smallholders who kept a few pigs, said Dr Davies. African swine fever would burn itself out if it was only in the wild boar population. But the disease was persisting because it was jumping in and out of the backyard pig population.
Lack of resources
The European Union has insisted that the situation is under control.But Dr Davies said: "That remains to be seen. We will continue to keep pressure on to make sure that the disease doesn't spread any further into the EU." Last year, the Forestry Commission acknowledged that a "significant cull" of wild boar was necessary. But it said it lacked the resources to carry out the cull.
Source: Farmers Weekly