Peru says soon to be officially free of FMD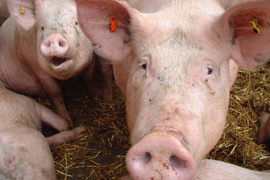 Peru will receive international certification declaring the country totally free from Foot-and-Mouth Disease (FMD), the Peruvian news agency Andina reports.
The official document will be handed over in two weeks. The country's minister of agriculture Milton von Hesse said it will offer opportunities for growth for Peru's livestock sector as exports will be allowed.

Von Hesse explained that this recognition, awarded by the World Organization for Animal Health (OIE), has been the product of a force led by the Peruvian National Service of Agrarian Health (Senasa).

He said the recognition of Peru being a FMD-free zone is good news for exporters of meat and processed products, as Peruvian products will be able to enter important markets.
"That is going to allow livestock industry development," he said after the opening of the International Seminar on Agriculture 2013.

He mentioned that the main markets that can accommodate such products include Asia, Europe, USA and Latin America.

In January, the OIE reported that 88.4% of Peruvian territory was free from FMD and that the country was on track to eradicate it.

On the website of the OIE, Peru is listed as a member, having an 'FMD free zone where vaccination is not practised'.