People: IIAD Team takes on new chief veterinarian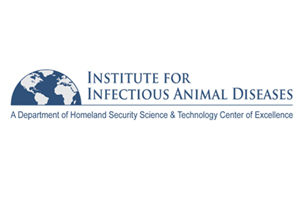 Elizabeth Parker, DVM, is bringing her unique experience in domestic and international animal health policy to the Institute for Infectious Animal Diseases (IIAD) where she will serve as the chief veterinarian effective 18 August 2014.
Skilled in navigating the intricacies between science, government and practicality, Dr. Parker adds an impressive set of skills to an already strong research, development and programmatic team.
Dr. Parker comes to IIAD from the Food and Agriculture Organization of the United Nations (FAO) in Rome, Italy, where she serves as an animal health officer in the Animal Production and Health Division, a position she has held since January 2012. Prior to her international services, Dr. Parker was the chief veterinarian for the National Cattlemen's Beef Association in Washington, D.C., where she served the nation's beef industry by leading the association's domestic and international animal health efforts.
During her time in Washington, D.C., she also served the House Committee on Agriculture, first as the 1999-2000 American Veterinary Medical Association's Congressional Science Fellow for Ranking Member Charlie Stenholm (D-TX), then as a professional staff member for then-chairman Larry Combest (R-TX), followed by chairman Bob Goodlatte (R-VA). During her time on the committee from 1999 to 2006, she worked on fruit and vegetable issues, viticulture, marketing orders and promotion programs, livestock issues, animal and plant health, pesticides, biotechnology, homeland security, food safety and honey issues. She holds a Doctorate of Veterinary Medicine and two bachelor of science degrees, all from Texas A&M University.
At IIAD, Dr. Parker will utilise her extensive national and international experience and network to develop collaborations between IIAD and animal health stakeholders, including private business, agriculture associations and veterinary practitioners, as well as federal and international governments. "As the Institute expands its partnerships globally, it is important that we have a dedicated professional on staff to foster and facilitate these relationships" says Tammy Beckham, IIAD director. "Dr. Parker's international experience, combined with her professional education and practical approach, makes her an ideal fit for this role."
In addition to her work with IIAD, she will hold a joint appointment with the Office of the Director, Texas A&M AgriLife Research, serving as a subject matter expert related to livestock and animal health. In this role, she will assist with research proposals, technical and operational responses, grant writing and other funding requests for veterinary and animal health efforts.
"Healthy animals are the foundation of a safe food supply and strong livestock sector. As IIAD products and programs grow and expand, it is important to be involved with our partners throughout the entire development and deployment process to ensure we are meeting the needs of our customers – from Texas farmers and ranchers, private industry and government," says Parker. "IIAD is a leader in research, technology and education related to animal disease issues, and I look forward to being part of the Institute and the dynamic Texas A&M team, facilitating this important link between IIAD and its customers."
"Dr. Parker is an experienced policy professional with expertise in science and technology issues, coupled with excellent analytical skills," says Beckham. "She is a strong leader and an effective communicator with impressive consensus-buildings kills. Her knowledge of US and international protocol, and experience in all levels of government will ensure IIAD's projects and partnerships continue to lead the way in protecting agriculture and public health globally."