PEDv won't slow down 
the World Pork Expo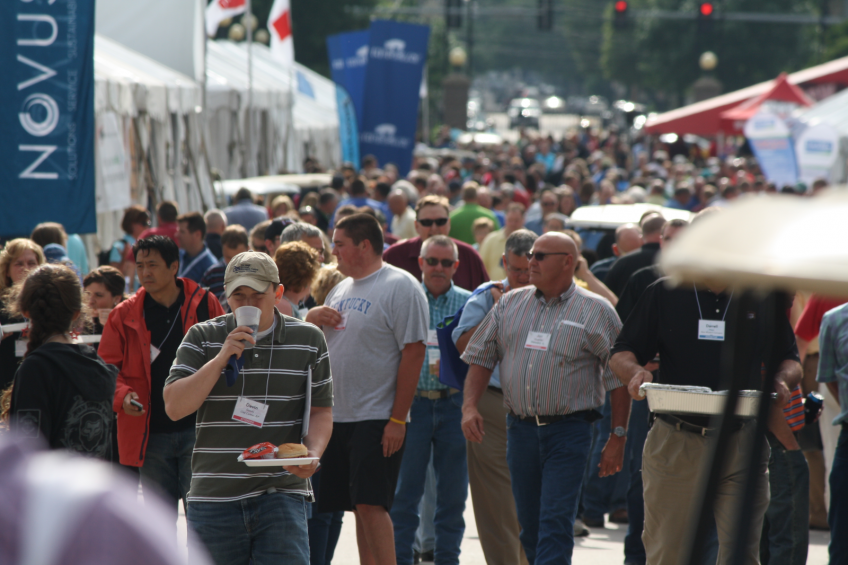 Even though swine health and the Porcine Epidemic Diarrhoea virus (PEDv) are top concerns among US pig ?farmers, producers remain ?optimistic about the future of the industry. This optimism is carrying over to the 2014 World Pork Expo too.
By Darcy Maulsby
As of mid-April, it didn't appear that PEDv would have much of an impact on the event, which runs from 4-6 June at the Iowa State Fairgrounds in Des Moines, IA, United States. "No programmes have been called off at this point, and the total number of trade show exhibitors is up from 2013," says Janice Keene, who handles public relations for the World Pork Expo. "We'll see what happens, but so far, so good."
Live hogs will be on display in the swine barn from 3-7 June. In addition, the world's largest pork-specific trade show will feature more than 400 exhibitors from around the globe. Visitors can stroll through more than 310,000 square feet (29,000 m2) of exhibit space to view the newest products, services and technologies available to pork production businesses today.
Free educational and business seminars during World Pork Expo will present updates on current swine industry issues and research, including sow nutrition, nutrient management in manure, PEDv updates and more.
Positivity
Swine health solutions remain a top priority for US pig farmers as PEDv continues to impact farms across the nation. According to a recent survey from the National Pork Board (NPB), 30% US producers say hog health and disease are the biggest challenges they face. The NPB recently supplied additional funds for research to help control the spread of PEDv, which was first identified in the United States in May of 2013.
Despite swine health challenges, 75% of respondents reported that the US pork industry is on the right track. Not only is this result of 75% the highest in survey history, but it's up 16 points from the 2012 result of 59%.
"Producers are satisfied. Whether they run a small, family farm or are part of a larger organisation, there's a sense of optimism, especially among producers age 18 to 54," says Karen Richter, NPB president and a producer from Minnesota. "That says a lot about the future of our industry."
Of the 13% of producers that said the industry was headed in the wrong direction, the most commonly reported reason was related to competition, too much regulation, the inability to turn a profit and disease problems. Only 6% of those surveyed blamed their lack of optimism on swine disease.
Another indicator that things are looking up is that US pig farmers believe consumers' image of their work has improved, up 6 percentage points from 2013. More than half (56%) of producers surveyed said that consumer image of the US pork industry is positive.
Stay connected
US pork producers are looking forward to joining pork industry professionals from around the globe at the 2014 World Pork Expo, says Randy Spronk, president of the National Pork Producers Council (NPPC) and a pork producer from Minnesota.
"World Pork Expo offers something for everyone. It's the one place where you can see all the latest developments in pork production and find business solutions you can take back home."
More information: www.worldpork.org.
Source: Pig Progress magazine 30.4 (2014)