In a contribution published by the US trade publication National Hog Farmer, scientists of Iowa State University explained that their research was carried out in the context of the importance of livestock trailers in bringing animals (and their faeces) from one farm to another, being a cause of contamination. Strict biosecurity practices have to be applied therefore, in all weather types.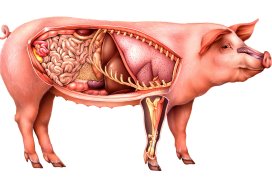 Read more about pig health in our special Pig Health Tool
Effects of disinfectant in winter
The researchers aimed to get to know whether a peroxygen-based disinfectant (Virkon S) could PEDv on aluminum surfaces at 39°F (about 4°C) and 14°F (-10°C) to determine if it can be implemented as the disinfect step of a wash, disinfect and dry trailer sanitation protocol in the winter.
Having performed their trials, the researchers concluded that both the 1:100 and 1:600 dilution of the disinfectant were effective at inactivating PEDv in 2 mm of swine faeces at both temperature levels with short contact times. Additionally, they stated added that the strategy remained effective in the presence of low levels of faeces.
The research was carried out by Kimberlee L. Baker and Derald Holtkamp, College of Veterinary Medicine, Iowa State University, Ames, IA, United States.