Dr Glen Duizer, an animal health surveillance veterinarian with the chief veterinary office of Manitoba said time will tell whether Manitoba's swine industry will ultimately eliminate the PED virus.
On 29 April 2017, the first of what would grow to 80 cases of Porcine Epidemic Diarrhoea and becoming the largest animal disease outbreak in the province in 30 years, was reported in southeastern Manitoba.
Dr Duizer told the 2018 Manitoba Swine Seminar in February in Winnipeg, MB, the PEDv outbreak peaked at the end of June before tapering off with another bump in mid-September.
"The good news is of the 80 sites, 44 of them have reached presumptive negative status," he said. "The producers, herd veterinarians, service providers, transporters, feed companies have all worked very hard to contain this disease because it takes on average 4 to 6 months to get there."
Dr Duizer thinks they've had only 1 farm that had a recurrence of the disease. "I would be speculating to say that we're out of the woods, but I remain hopeful," he said. "This upcoming year will be the year which will tell us if all the changes made within farms, around farms will be effective in preventing the disease from coming back."
80 operations confirmed positive
Robyn Harte, swine industry focus specialist with Manitoba Agriculture, told the same audience there were 80 operations that were confirmed positive, over 1 million pigs under surveillance and, at its height, an industry wondering what they could do to protect their operation. "When an operation breaks with a disease, we conduct a review of the farm's activities, staff behaviours, and protocols," said Ms Harte. "This gives a snapshot of what occurred on the farm before infection to pinpoint a window of time for potential disease entry and the contributing factors."
She said as the outbreaks grew, questions arose regarding why were barns close by to positive operations not contracting PEDv? What was happening on negative operations, if anything, that was providing a protective effect? They also wondered if there could be enough difference in protocols between operations to produce a protective effect.
"To examine this question further, we carried out a survey to evaluate the biosecurity protocols of negative operations versus those of the positive operations. The survey questions focused on key biosecurity areas; entry and exit protocols of staff and animals, cleaning and washing protocols for barns and transportation, interactions of staff, service providers and the barn environment," said Ms Harte.
Phone surveys
One person did the 1 hour phone surveys to ensure standard questions and reduce variability. Each facility had 2 surveys 1 with the veterinarian for the operation and the second with the in-barn manager to establish what happened on the farm with regards to biosecurity and biocontainment.
Ms Harte said the surveys will continue until the anniversary of the start date of the 2017 outbreak to strengthen the data. It is also important to note that analysis of the data between the positive and negative barns is ongoing.
Interestingly:
13 of the 72 operations interviewed broke with PEDv after the survey
4 were legitimate breaks (i.e., barns that broke due to accidental exposure)
1 operation was a deliberate break to manage pig numbers and flow
The remaining operations are monitored breaks. These were facilities that had had PEDv previously, 2 negative PEDv tests and working towards a negative facility status. These barns moved pigs, and the new barns subsequently broke with PEDv.
"This protocol made clear that managing PEDv is problematic as we do not have a full understanding of the progression of the disease through a herd. Also, the immunity conferred on the herd by the disease, the impact of transport stress on pigs and a host of other issues that impacts PEDv eradication from a barn," she said.
"We hoped there would be significant differences in the biosecurity behaviours between barns that broke with PEDv and those that did not. And that the survey would uncover a 'smoking' gun behaviour that we could point to as the source of PEDv introduction on positive sites. To date, the data indicates that there were few differences in biosecurity protocols between barns that were positive for PEDv and those that were negative."
Lessons learnt from the cleanup
Jennifer Demare, of Swine Health Professionals of Steinbach, MB reflected on what they learned in tackling this PEDv outbreak and from the clean-up. Ms Demare said like any disease outbreak everyone quickly becomes humbled and unsettled and they will remember for a long time the awareness of industry gaps that accompanied the 2017 outbreaks.
"Communication and collaboration are key to any successful disease outbreak and elimination strategy," she said. "All parties require trust of each other and continual open and safe channels of communication."
Next, said Ms Demare, support to any employee or person involved should quickly granted to ensure the mental well-being of farm workers. The protocols implemented are a tiring process, and staff turnover would slow down disease elimination success.
"All must practice biosecurity, internal and external, 7 days a week, 365 days a year to reduce disease spread on a site," she said. "The benefits to following McRebel principles can increase piglet quality and reduce antibiotic use on the farm."
Ms Demare concluded saying industry collaboration, and information sharing is a highly valuable tool. What if the next disease is a foreign animal disease? What cost would this bring to the Canadian swine industry?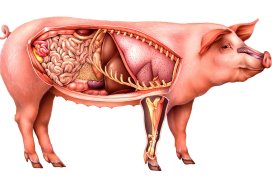 Find out all there is to know about pig health using Pig Progress' unique Pig Health Tool
'Walloped with PEDv'
Claude Vielfaure, president of HyLife, Canada's leading hog producer said they got walloped with PEDv with quite a few cases over the spring/summer, but yes, it's quieted down significantly.
Mr Vielfaure said, "We've taken a lot of measures right now to try to eradicate it out of our system. It's a process that we are working through, but it's going very well and, hopefully, at some point in the next 6 months we'll be able to say that all our sites are presumed negative and be able to continue without it, hopefully. During the peak of the outbreak for a few months, it was hard to wake up in the morning and come to the office. Whatever plan we had put together yesterday all changed because we had another site positive today, and then we were doing all kinds of biosecurity stuff to try to prevent the spread. It was a very challenging time."
It affects everyone, owners and employees alike. "Our employees were tremendous through this, just tremendous. It's hard on our employees," Mr Vielfaure said. "They are there to raise pigs and not to have pigs die on them, and then the extra work and the extra clean-up and everything that comes with it was very, very hard on our employees, but, we have great employees. They came through for us and worked hard, and we can start cleaning everything out here."
Nursery and finisher pigs
Last but not least, international livestock consultant Dr John Carr said he would never have moved nursery and finisher pigs to another site even if the lab says they are negative. "All the finishing pigs should go at the lowest weight possible in Manitoba not at the best weight maximising profit," said Dr Carr. "We need to consider the greater good personally."