Outbreak of African Swine Fever in Benin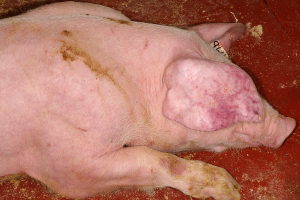 An outbreak of African Swine Fever (ASF) has been reported by the country's veterinary authorises at a farm in Parakou.
The outbreak, initially observed on the November 3rd, was reported to the World Organisation for Animal Health (OIE) on the 6th. According to the OIE's website, a total of 29 pigs were affected, out of which 7 were reported, 5 were found dead and 2 slaughtered.
The source of the outbreak has been named as fomites (humans, vehicles, feed, etc.). The control measures that have been applied are quarantine, movement control inside the country, zoning, modified stamping out.
There is no published treatment or vaccine for ASF. In endemic areas, it is difficult to eliminate the natural reservoir in warthogs; however, control of the soft tick vectors is important in preventing the disease. It is also important to ensure that meat from warthogs or infected animals is not fed to susceptible pigs. All successful eradication programs have involved the rapid diagnosis, slaughter and disposal of all animals on infected premises, thorough cleaning and disinfection, deinsectisation, movement controls and surveillance. ASF is not a human health threat
African swine fever is enzootic in most countries of Sub-Saharan Africa, including Madagascar. In Europe, it has been reported and successfully eradicated from the Iberian Peninsula but continues to be found in Sardinia. In the 1970s, ASFV was present in the Caribbean (Haiti and the Dominican Republic) and one country in South America (Brazil), but was successfully eradicated. Most recently, it has appeared in the Caucasus (Georgia, Azerbaijan, and Armenia) and Russia
The OIE also reports that there was an ASF outbreak at the same location as in 2005